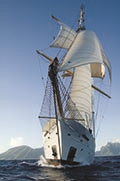 As diverse as we are as a group, we have a strong unity of purpose.
Woods Hole, MA (PRWEB) July 16, 2014
Daily Eexpedition Blog Posts: http://www.sea.edu/PIPA_Blog
New England-based SEA Semester's ocean research vessel arrived Monday night in the Phoenix Islands Protected Area (PIPA) of the remote central Pacific. The 134 foot brigantine tall ship departed Honolulu on July 1, sailing over 1,600 miles to arrive in this vast marine protected area, an expanse of ocean approximately the size of the state of California. Scientists and researchers with Sea Education Association, New England Aquarium and Woods Hole Oceanographic Institution have joined forces to undertake the first comprehensive oceanographic survey of these pristine coral reef atolls. They are joined by thirteen undergraduate students participating in the SEA Semester study abroad summer program, "Protecting the Phoenix Islands." In addition to students, scientists and crew, two government officials from Kiribati, the island nation that created the Phoenix Islands Protected Area, are sailing as observers on the voyage.
Students and crew will spend the next three weeks in the Phoenix Islands, where students will work alongside experts to compile data of the hydrography, currents and planktonic life of the region, as well as develop policy recommendations for future conservation efforts. This comprehensive, real-time data will contribute to the conservation strategy of the Phoenix Islands. The final week of the voyage will be spent sailing from the Phoenix Islands to American Samoa. The journey will draw to a close on August 11.
Dr. Jan Witting, Chief Scientist of the voyage and Professor of Oceanography with Sea Education Association, was instrumental in bringing about the collaboration between SEA Semester, New England Aquarium and Woods Hole Oceanographic Institution. According to Witting, "This voyage of discovery brings together a diverse group of people from across the globe. Our ship carries a community of 33 students, ocean scientists, mariners, and conservation managers from the U.S., Kiribati, Tahiti, India, Australia and Europe…As diverse as we are as a group, we have a strong unity of purpose."
Dr. Randi Rotjan, co-organizer of the expedition and Associate Research Scientist at New England Aquarium, expounded on the purpose of the voyage: "There have been so few scientific visits to the Phoenix Islands; every new set of eyes, every new set of voices, every new set of data points are critically important. On top of that, this voyage is the first opportunity to observe oceanographic information within PIPA borders—and with the upcoming closure (January 1, 2015) of commercial fishing in the area, all data from the Phoenix islands are valuable, now more than ever. PIPA continues to be a model of what ocean conservation can look like."
In addition to participating in data collection efforts while at sea, SEA Semester students will be studying the PIPA area within the context of conservation policy. Andrew Futerman, an undergraduate at Oregon State University and U.S. Army veteran, is participating in this particular SEA Semester program and voyage as preparation for a career in conservation policy. According to Futerman, "The conflux of science and policy is such an exciting developing field…this program—looking at the management of a major marine protected area—is basically my career goal."
Daily blog posts detailing the events of the voyage are published here and also on New England Aquarium's website: http://pipa.neaq.org/.
####
About the Phoenix Islands Protected Area
The Phoenix Islands Protected Area (PIPA) includes atoll, low reef islands and submerged reefs of the Kiribati section of the Phoenix Island group. The greater part of PIPA is comprised of ocean floor with a water column averaging more than 2.5 miles deep. It is estimated that there could be more than 30 seamounts (of which only nine have been named thus far). Due in part to their isolation from much of the world, the Phoenix Islands reefs have remained relatively untouched by human impact, and are one of Earth's last intact oceanic coral archipelago ecosystems. PIPA also protects important seabird nesting grounds, along with rare traditional plants that have cultural and medicinal values in Kiribati but are now threatened on more populated islands.
About Sea Education Association/SEA Semester®
Sea Education Association (http://www.sea.edu) is an internationally recognized leader in undergraduate ocean education. For nearly 45 years and over one million nautical miles sailed, SEA has educated students about the world's oceans through its fully accredited study abroad program, SEA Semester. SEA/SEA Semester is based on Cape Cod in the oceanographic research community of Woods Hole, Massachusetts and has two research vessels: the SSV Corwith Cramer, operating in the Atlantic Ocean, and the SSV Robert C. Seamans, operating in the Pacific.
About New England Aquarium
The New England Aquarium (http://www.neaq.org) is one of the most prominent and popular aquariums in North America and is a recognized international leader in ocean conservation, education and research. The Aquarium and with Conservation International were the principal advisors to the government of Kiribati in establishing the Phoenix Islands Protected Area, one of the largest and most important marine protected area in the world.
About Woods Hole Oceanographic Institution
Woods Hole Oceanographic Institution (http://www.whoi.edu) is the world's largest private, non-profit oceanographic research institution and a global leader in the study and exploration of the ocean. The purpose of Woods Hole Oceanographic Institution is to understand the ocean and its importance to Earth and humanity, explore the ocean in all its depth and complexity, and educate scientists, students, decision-makers and the public.