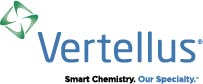 Indianapolis, Ind. (PRWEB) July 16, 2014
Vertellus Specialties Inc. (the "Company"), a leading specialty chemicals company, today announced that the Company will host a conference call to discuss its second quarter 2014 financial results for the period ended on June 30, 2014 on August 4, 2014 at 11:00 AM EDT. Hosting the call will be Richard Preziotti, President and Chief Executive Officer, and Philip Gillespie, Chief Financial Officer.
The earnings statements and 10-Q statement will be posted on the Company's investor web page on July 23, 2014. Instructions for obtaining access to the conference call for interested and qualified investors, as well as the earnings statements, are available on the Company's investor website at http://www.vertellus.com.
About Vertellus Specialties Inc.
Vertellus is a specialty chemicals company focused on the manufacture of ingredients used in pharmaceuticals, personal care, nutrition, agriculture, and a host of other market areas affected by trends favoring "green" technologies and chemistries. Vertellus is the #1 global producer of pyridine and picolines, specialty pyridine derivatives, DEET, castor oil derivatives and systems and the world's #2 producer of Vitamin B-3 and citrate polymer additives. Vertellus benefits from a technically advanced global manufacturing base and has approximately 800 employees. Vertellus is headquartered in Indianapolis, Indiana. Vertellus is owned by Wind Point Partners, a private equity firm based in Chicago. Wind Point acquired Vertellus in 2007 through Wind Point VI, a $715 million fund. Further information is available at http://www.vertellus.com.