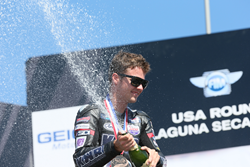 "It's been a really up and down season."
Plymouth,WI (PRWEB) July 15, 2014
Knee surgery proved to be not enough to keep Kyle Wyman from having a successful weekend making it to the podium at Mazda Raceway Laguna Seca this weekend. The Millennium Technologies-sponsored racer achieved a 3rd place finish on Saturday during the AMA Pro Harley-Davidson series race mere days after having undergone surgery to repair a torn meniscus which also included removing cartilage from the joint.
Wyman started third on the grid and had battled early on in the race for the lead before settling into third for the finish.
Wyman spoke regarding his knee, "It felt all right. It was a pretty lonely race, just watching my pit-board to see the gap between myself and the guys behind me. I was able to start off with the front guys and make the gap to fourth and then about lap 4 I over-revved my bike coming up to the corkscrew. I lost some power there and couldn't stick with the leaders."
The podium finished served as a good recoup of points after his crash at Barber Motorsports Park, moving him up to 6th place in the Harley-Davidson series points standings.
The season has come with plenty of ups and downs, but Kyle Wyman has remained confident throughout all of his events. "It just feels good to be back on the podium," Wyman added. "It's been a really up and down season. We've had a win taken from us by DQ, then another win, then a crash-out, now we're back on the podium. I'll take it."
The AMA Pro Daytona Sportbike series race did not bring as positive of results for Wyman. After a qualifying effort that had him take off from the 20th position on the starting grid and a battle for the 10th place position midway through the race Wyman eventually wound up finishing 16th.
"We were behind the 8-ball all weekend on the setup on the Millennium Technologies R6," Wyman commented. "We found a great change Sunday morning before the race, which had us 11th fastest in the warm-up session, but starting from 20th didn't do us any favors. I made a big mistake on the last lap which cost me a couple positions."
The 16th place finish dropped Kyle to 9th place in the Daytona Sportbike season points standings. Wyman will have another chance to earn points when he competes at Mid-Ohio Sports Car Course, a venue he considers a second home."
"Mid-Ohio is actually the closest AMA track to my home in New York," Wyman said. "I'm looking forward to some better track familiarity and this short week to rest my knee. I feel I will be 100% by Saturday morning and ready to make a charge in both classes for all my sponsors like Ballistic Performance Components and Lucas Oil. There's so much support for the KWR team and I want to make them proud in Ohio next week."
You can follow Kyle Wyman's career and official posts via his official Facebook account at http://www.facebook.com/kylewymanfans
To put the same technology behind Kyle Wyman's championship winning superbikes into your own motor vehicle, visit www/mt-llc.com.