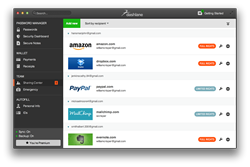 Dashlane 3 allows families and roommates to simply and securely share passwords to bank accounts, utilities and more
New York, NY (PRWEB) July 16, 2014
People share passwords, whether at work or at home, and it is a nightmare. Co-workers share passwords to FedEx and Twitter; family members use the same Netflix or Seamless accounts. These passwords are typically emailed around in plain text… plain insecure. If someone changes the password, everyone else gets locked out. And how secure is the company's QuickBooks password when accountant leaves with it?
To eliminate these problems, Dashlane 3 introduces Password Sharing and Emergency Contacts.
Password Sharing
Dashlane 3 allows families and roommates to simply and securely share passwords to bank accounts, utilities and more. It also allows workplaces to solve problems such as:

Sharing multiple passwords with new hires
Keeping them in sync when anyone changes a shared password
Revoking access to shared accounts when employees leave
The new 'Sharing Center' in the Dashlane menu lets users easily manage all their shared items and edit sharing rights. Users can set admin rights to limit recipients' ability to re-share or revoke shared passwords. These new features are available now on desktop (and soon on mobile) to all Dashlane users, Free or Premium; recipients must have a Dashlane account to access a shared password. All of this is implemented with the same bank-grade AES-256 encryption and complete privacy that Dashlane users already enjoy today.
Emergency Contacts
Also included in Dashlane 3 is the new 'Emergency' feature that allows users to assign emergency contacts for passwords and notes. A Dashlane user can designate select individuals (who must be Dashlane users) to have read-only access to some or all of their Dashlane data in the event of an emergency.
Emergency allows the user to select who can access credentials, which credentials they're allowed to access, and the waiting period they can use them after. It is also available to all Dashlane users, now on desktop (and soon on mobile).
Emergency can be used at work or with family and friends. For example, if a System Admin is on extended leave and an employee needs access to a password, the Admin can designate that employee as an emergency contact for that password. A family use case could be assigning a trusted relative as an emergency contact while traveling on vacation, allowing that person to access the accounts in an unforeseen emergency.
About Dashlane
Dashlane makes identity and payments simple with its fully-featured password manager and secure digital wallet app. Dashlane allows its users to securely manage passwords, credit cards, IDs, and other important information via advanced encryption and local storage. Dashlane has helped over 2 million users manage and secure their digital identity, and has enabled over $1 billion in e-commerce transactions. The app is available on PC, Mac, Android and iOS, and has won critical acclaim by top publications including The Wall Street Journal, The New York Times, and USA Today.
Dashlane was founded in 2009 by Bernard Liautaud and co-founders Alexis Fogel, Guillaume Maron and Jean Guillou. The company has offices in New York City and Paris, France, and has received $30 million in funding from Rho Ventures, FirstMark Capital and Bessemer Venture Partners. Learn more at Dashlane.com.