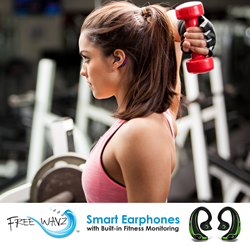 Our partnership with Anuva has absolutely been instrumental in bringing our product to life. Now we need the public's help so we can flip the switch and bring FreeWavz to market.
West Melbourne, FL (PRWEB) July 15, 2014
Anuva, a "design to distribution" family of businesses committed to helping small technology startups grow within the United States, has formed a strategic partnership with FreeWavz Smart Earphones to help produce a new wearable device with built-in fitness monitoring.
"Anuva is thrilled to collaborate with the inventors of FreeWavz," says Anuva Founder and CEO Vinu Patel. "By partnering with startups like this, we're accelerating the progress of technology business within the United States and helping to spur more jobs."
The manufacturing and engineering experts at Anuva helped to create the initial US-made FreeWavz prototypes, transforming an entrepreneurial idea into an emerging-market reality. "Our partnership with Anuva has absolutely been instrumental in bringing our product to life," says FreeWavz President Harry Ericson. "Now we need the public's help so we can flip the switch and bring FreeWavz to market."
Melbourne, FL-based FreeWavz has raised more than $100,000 and attracted about 340 backers through an online fundraising campaign. But with a fundraising goal of $300,000 and a fast-approaching deadline of August 7, the company is seeking additional pledges. Learn more about FreeWavz and this exciting opportunity by watching the Kickstarter video: https://www.kickstarter.com/projects/freewavz/freewavz-smart-earphones-with-built-in-fitness-mon.
FreeWavz's features include:
►Fitness monitoring with audio alerts: Receive audio updates of your heart rate, calories burned, distance, steps, and exertion.
►Connectivity: Pair to your Bluetooth to initiate and receive calls, stream music, check your calendar, send and check email or text via voice command.
►Configurable listen-through: Adjust the mix of music and environmental sound. Set to 100 percent music, 100 percent listen-through, or a mix in-between based on your surroundings.
►Independent left/right volume & equalizers: Set the left or right earphone volume and six frequency equalizers based on your situation and listening preference for crystal-clear sound.
Wire-free FreeWavz was invented by Ear, Nose & Throat Dr. Eric Hensen to deliver crystal-clear sound the way the ear is designed to hear it in a form custom-fit to the contour of the ear for comfort and security. A fitness fanatic, Dr. Hensen was frustrated by wires that were binding, bulky devices that got in the way, and headphones that fit poorly, disrupting his workouts. Observing injuries from entanglement in wires and the breakage of devices that fell off treadmills or that got crushed by weights, he spent years finding a better way to listen to music that was safe and secure. In addition, he didn't want to be forced to wear both earphones and another "fitness" device to monitor his health, so he combined the two and designed a smart earphone with built-in fitness monitoring! For more about FreeWavz, please visit http://www.freewavz.com.
Anuva's Vinu Patel attributes much of his company's success to its commitment to partnering with entrepreneurial startups such as FreeWavz. As a result of Anuva's many collaborative efforts, the company has launched more than 130 cutting-edge "Made in the USA" products over the past 18 months and assisted new technology companies in their aggressive growth plans.
About Anuva
Anuva is a "Design to Distribution" family of businesses that started in 2008 with the launch of Anuva Services in Morrisville, NC. Anuva Services, a Carolinas Minority Supplier Development Council-certified minority business, began by providing world-class after-market and logistic services to customers. Despite launching during a challenging economic environment, Anuva experienced tremendous start-up growth and tripled the space of the facility. Three years later, Anuva further expanded by acquiring a contract manufacturing operation whose roots date back to the Dictaphone operation in Melbourne, FL. In 2011, Anuva Founder Vinu Patel launched Anuva Manufacturing Services and relocated the headquarters to a new facility in Melbourne. Anuva Manufacturing is AS 9100 certified. In 2012, Anuva expanded once again by launching a sister company, Anuva Resource Solutions (http://www.anuvaresource.com). Anuva Resource Solutions was created to assist Anuva customers needing help hiring talented people who would grow their businesses. Specializing in startups and midsize companies, Anuva Resource Solutions handles each HR and financial outsourcing project with the highest integrity and dedicated, personal attention. In 2013, Anuva continued to expand by acquiring TriE Medical Inc. Rebranded Anuva Innovations (http://www.anuvainnovations.com), the ISO 13485-certified medical device development division provides design, documentation, manufacturing, and testing services. In early 2014, the acquisition of the manufacturing facilities of Innovative Electronic Solutions Lighting in Morrisville expanded Anuva's portfolio and electronics manufacturing capabilities even further. These acquisitions create the Design to Distribution vision of our company. Anuva is a US-owned and operated company with a mission to provide a total solution for our clients and employ domestically while making a global contribution.
To find out more about Anuva's services, please visit http://anuva.com.