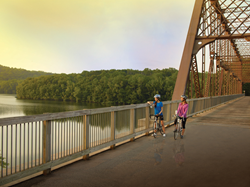 White Plains, NY (PRWEB) July 17, 2014
Summer is in full swing in Westchester County and the forecast calls for plenty of exciting activities that the entire family can do together. The first stop in the Lower Hudson Valley is the perfect weekend destination, where families can find everything from music and culture, to outdoor adventures and unique hotel packages.
"Now that we are midway into the summer season, we are thrilled to share all the wonderful events and activities that Westchester has to offer through Labor Day weekend," said County Executive Robert P. Astorino. "From music and the arts to outdoor adventures in our many parks, pools and beaches, invite family and friends for a weekend getaway to remember."
The following is a list of upcoming events and attractions:
Escape to Music & The Arts
Throughout the rest of July and into August, Lyndhurst has a variety of events scheduled for locals and visitors alike, including its Sunset Jazz Outdoor Music Series on Thursdays.
On Thursday, July 24, enjoy a fantastic swing band performance with Virgil Scott Orchestra, a six-piece band delivering strong R&B with lots of soul. Then, on Thursday, July 31 Hendrik Meurkens, a virtuoso on both the chromatic harmonica and the vibraphone, will perform as part of the Samba Jazz Quintet Sunset Jazz. And, there will be a scheduled performance by Eddie Allen Quintet, a well-known and versatile trumpeter, composer, arranger and author, who will perform on Thursday, August 7. All performances are 6:30 p.m. to 8:00 p.m. The cost for each event is $10 per car. Lyndhurst is located at 635 South Broadway in Tarrytown. For more information or a full list of events happening at Lyndhurst this summer, call (914) 631-4481 or visit http://www.lyndhurst.org/programs.
Come to Westchester for a long weekend and enjoy various relaxing settings. On Friday, August 1 at 1:30 p.m. enjoy a formal Afternoon Tea in the grand setting of the Summer Dining Room of the Historic Rosen House at Caramoor Center for Music & the Arts, overlooking the Spanish Courtyard. Afterwards, receive a tour of the Rosen House, the loved country home of the Rosen family with a beautiful art collection. Filled with examples of fine and decorative Asian and Renaissance art spanning the centuries, the Rosen House offers a number of treasures, including 18th century rooms, originally from private villas and chateaux in Italy, France, and England. Leave time to stroll through Caramoor's dazzling gardens and bucolic grounds. The tea and tour is $31.50 per person. For more information, visit http://www.caramoor.org/events/afternoon-tea/.
Getting into town a little later that day? Enjoy A Summer Evening at the Rosens' at 5:30 p.m. and experience what it is like to be a guest of the Rosens at one of their famed soirées. Enjoy cocktails in the Sense Garden, be escorted to the majestic Music Room for a brief presentation about the Rosen Family and a short theremin demonstration followed by a delicious dinner on the casually elegant East Porch. End the evening with a performance in the Spanish Courtyard with Alisa Weilerstein and the Ariel Quartet. A Summer Evening at the Rosens' is $80 per person. For more information, visit http://www.caramoor.org/events/summer-evening-rosens/.
The Rosen House is located at Caramoor Center for Music and the Arts, located at 149 Girdle Ridge Road in Katonah. For a full list of events, call (914) 232-5035 or visit http://www.caramoor.org/.
Escape to Explore
Hike, bike, skate, jog or walk and enjoy nature's picturesque surroundings all at the same time. An extraordinary trail system meanders throughout the county and offers beautiful scenery with parks, picnic spots, restaurants, historic sites and nature preserves along the way. The trails detail distances, access points, historical notes, sites of interest and available parking locations near the trails' main access points. Some of the most popular trails include the Briarcliff – Peekskill Trailway, Westchester's RiverWalk, Colonial Greenway, North County Trailway, the Old Croton-Aqueduct Trail/State Historic Park and South County Trailway. A Hike, Bike and Explore brochure is available and details the trails, parks, historical sites and various outdoor interests in the county. This valuable resource can be found online at http://www.visitwestchesterny.com.
On Sunday, August 3, take a trip to Muscoot Farm for Flying Flowers, a hike to see the beautiful butterflies on the property. Throughout the rest of August, visitors can enjoy other exciting walks and adventures including wildflower walks and bird walks. Muscoot Farm is a Westchester County Park that strives to preserve and interpret its agrarian past. It was originally a "Gentleman's Farm" founded by Ferdinand T. Hopkins in 1880 and operated as a dairy farm until Westchester County acquired the property in the late 1960s. Visitors may stroll through the original barns, visit with the animals, participate in educational programs or hike the many miles of trails. There is something for everyone on Muscoot's 777 acres. Muscoot Farm is located at 51 Route 100 in Katonah. For more information, call (914) 864-7282 or visit http://muscootfarm.org/.
If looking to add some culture, go to Kensico Dam Plaza's Cultural Heritage Celebrations. Experience a variety of cultures from around the world. On August 3, celebrate Indian culture from 12:30pm to 6:30pm. Or, enjoy the Jewish Music Festival on Sunday, August 17 from noon to 6:00 p.m. Festivals include an array of entertainment and food from each culture. Sponsored by Westchester County Parks, all of the Cultural Heritage events are held rain or shine. Seating is informal and visitors are encouraged to bring blankets or folding chairs for seating on the lawn. For more information, visit http://parks.westchestergov.com/featured-events/cultural-heritage-celebrations-2014.
Escape to Amazing Hotel Packages
Doral Arrowwood and Rye Playland have partnered for the Stay & Playland Beach Package. Enjoy a summer weekend getaway with early check-in at 1:00 p.m. and late check-out at 1:00 p.m. Starting at $236 per night, per family, enjoy a full hot buffet breakfast for two adults and two children under 10 years old. A complimentary shuttle to and from Playland Beach (towels provided) is included and chair and umbrella rentals are also available at the beach. If looking for an adventure after the beach, families can enjoy rides and games at Playland Park (ride wristbands can be purchased at the front desk or onsite at the park). Back at the hotel, Doral Arrowwood has a state-of-the-art Sports Center and indoor/outdoor heated pool. Pub nightlife and live music are on Friday nights in Mulligan's Outdoor Café and guests receive 15 percent off Saturday Night Dinner Dance and complimentary guest reception. Complimentary movies will be in the Doral Theater and Weekend Golf & Tennis Clinic.
For a full list of the summer itineraries, visit http://escapes.visitwestchesterny.com/ and for more of the latest events and happenings in Westchester, log onto http://www.visitwestchesterny.com, like us on Facebook (facebook.com/westchestercountytourism), follow us on Twitter @westchestertour or call 1-800-833-9282. To view the Westchester County Destination Guide, please visit http://digital-editions.mediatwo.com/westchester-destination.
About Westchester County Tourism & Film
Tourism & Film is Westchester County's official destination marketing organization. Its mission is to generate economic benefits by enhancing the image and promoting Westchester County as a premier business and leisure destination in the Hudson Valley region. The Tourism & Film Office in Westchester County is a division within County Executive Robert P. Astorino's Office of Economic Development.