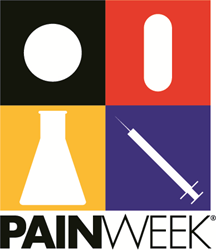 Montclair, NJ (PRWEB) July 16, 2014
PAINWeek, the National Conference on Pain for Frontline Practitioners, today announced that the 2014 conference will expand to encompass an additional day of pain education and special events. This Bonus Day, Tuesday September 2, will kick off the 5-day conference agenda running from September 2-6, and will be available to all attendees at no additional registration cost. With this expansion of the conference agenda, PAINWeek 2014 will offer over 120 CE/CME hours of pain management education, enabling practitioners to earn up to 39.0 CE/CME hours, nearly 25% more than any previous PAINWeek conference.
A new Schedule at a Glance, providing a comprehensive overview of PAINWeek 2014 is now available at the conference website, http://www.painweek.org. In addition to the additional conference day, this year's agenda features significant enhancements that reflect the increasing sophistication of multidisciplinary pain management.
Reflecting their importance as a part of a multidisciplinary pain team, a new track designed for Nurse Practitioners has been added to the agenda. Commenting on the addition, Brett Badgley Snodgrass, MSN, FNP-BC, a lecturer with Fitzgerald Health Education Associates, Inc. said, "I'm excited to be taking part in the Nurse Practitioner track. Great expertise and an abundant offering of topics will truly equip nurse practitioners to provide appropriate, quality care for their patients. Whether practicing in pain management or primary care, there are topics that appeal to everyone. Clinicians can expect to return to their practices and provide the best possible care based on what they have learned at PAINWeek."
As at prior PAINWeek conferences, the 2014 curriculum features a wealth of course concentrations, including: behavioral pain management, health coaching, interventional pain management, medical/legal, neurology, pain and chemical dependency, pharmacotherapy, regional pain syndromes, and full-day programs presented by the American Academy of Pain Medicine, the American Pain Society, the American Society of Interventional Pain Physicians, American Society of Pain Educators, the National Association of Drug Diversion Investigators, and the Veterans Health Administration. Additionally, over 100 exhibitors will be participating during exhibit hall hours commencing with the traditional Welcome Reception on Wednesday evening.
Significant registration discounts are available to individuals and groups during "early-bird" registration until July 31, 2014. Visit http://www.painweek.org to register.
About PAINWeek
PAINWeek is the largest US pain conference for frontline practitioners with an interest in pain management. Convening at The Cosmopolitan of Las Vegas for its 8th year on September 2-6, 2014, PAINWeek expects to welcome over 2000 physicians, nurses, pharmacists, and other healthcare professionals for a comprehensive program of course offerings, satellite events, and exhibits. Over 120 hours of continuing medical education activities will be presented. To learn more and register for PAINWeek 2014, visit http://www.painweek.org.