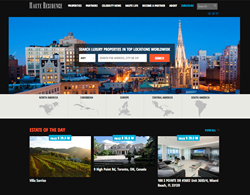 New York, NY (PRWEB) July 15, 2014
INTRODUCING HAUTE RESIDENCE 2.0
After undergoing a spectacular revamp involving the integration of a real estate lead generation platform for top luxury real estate agents across the globe, Haute Residence is looking—and performing—better than ever.
The exclusive club of elite real estate professionals is proud to announce its newly established affiliation with ListHub, the nation's top network for marketing real estate, which synchronizes listing data from more than 450 MLS sources and serves more than 48,000 brokerage companies around the world. The powerful partnership arms the site's luxury property portal with the ability to generate thousands of the most desirable listings worldwide in just a matter of seconds.
The portal also allows its users to peruse the detailed profiles of the Haute Real Estate Network's 80 elite partners, offering them an extremely easy way to locate and contact the best agent in their respective areas to help them find their perfect homes.
Haute Residence—which has garnered an outstanding following since its successful launch three years ago—will continue to double as a social network site for its partners, allowing them to showcase their expertise in the form of personalized monthly blogs, and solidifying their reputations as the absolute authoritative sources for all things real estate in their respective regions.
Beyond that, the site—whose content will be cross-promoted on Haute Media Group's international affiliated websites: hautetime.co.uk, hautetime.ru, and hautetime.ae, to better reach and serve luxury homebuyers abroad—will keep on featuring the hottest celebrity real estate news, design features, and the world's most extraordinary residences on the market.
To get a glimpse of Haute Residence's phenomenal new facelift, head on over to http://www.hauteresidence.com.
ABOUT HAUTE RESIDENCE
Designed as a membership-driven luxury real estate portal for top luxury specialists who on average sell over $40 million worth of real estate every year, Haute Residence features one leading real estate agent in each prominent market across the world, connecting Haute Media Group's affluent audiences with the real estate professionals they need. Offering clients a unique convenience, the well-established site provides homebuyers the opportunity to find their dream havens with the help of some of the world's leading real estate professionals.