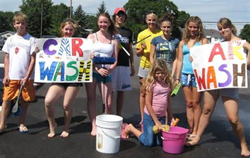 Washdrops is powerful yet gentle, leaving a gorgeous shine on cars, great for fundraising events.
Solon, OH (PRWEB) July 16, 2014
Washdrops advanced technology is now making car wash fundraisers around the country more environmentally-friendly and more cost efficient. The average-sized vehicle can be washed anytime, anywhere, with only one gallon of water and one fluid ounce of Washdrops.
Each year, schools, marching bands, sports teams, and other groups around the nation host car washes to raise funds for their organizations. While car washes are a fun activity and an efficient use of manpower, they can waste an enormous amount of water. Washdrops car wash and shine solution can eliminate that unnecessary waste. Using just one bucket of water per vehicle on average, Washdrops provides a fabulous car wash and shine solution.
According to a recent report by the International Carwash Association, an industry group representing commercial car wash companies, automatic car washes consume about 43 gallons of water per vehicle for the average size car. Car washes done at home are even less efficient. Given that a standard garden hose uses approximately 10 gallons of water every minute, just one at-home car wash with a running hose would use about 100 gallons of water in ten minutes. Washdrops requires just one gallon of water to wash the same vehicle.
As the 2014 Green Product of the Year Award from AutoWorld for the third year in a row, Washdrops is widely recognized as the most innovative leader in eco-friendly car washing. Washdrops helps comply with the U.S. Environmental Protection Agency (EPA) Clean Water Act. It is biodegradable, solvent-free, butyl free, phosphate free, and ammonia free. This means that any remaining water after use can safely be poured on a lawn, bed of flowers or down the drain.
In addition to being eco-friendly and reducing water waste, Washdrops is cost efficient too. At approximately 70 cents on average per car, Washdrops costs significantly less than taking a vehicle to a commercial car wash. This can translate to a higher potential profit for fundraisers as well as a great deal for customers. Washdrops is powerful yet gentle, leaving a gorgeous shine on cars. The result of each beautiful, glistening car is a more satisfied customer, which can mean significantly more money raised for the cause.
Armin Brott, founder of Mr. Dad, stated that, "Washdrops provides an incredible opportunity for groups and organizations around the country to host fantastic fundraisers without nearly the amount of water waste. Cars will leave with an impeccable shine and money will be raised for worthy causes, all without hurting the environment." Brott, America's leading authority on successful fatherhood, is also the founder of the Mr. Dad Seal of Approval which he recently awarded to Washdrops.
Washdrops is available for purchase at Washdrops.com, thecequentstore.com/washdrops and Amazon.com. Like us on Facebook and enter the sweepstakes to win a free Premium Car Wash Kit (Retail Value $22). We will send everyone that enters our tips on holding a successful car wash. As a special offer, Washdrops is giving fundraisers a special coupon code for $2.00 off their next purchase of Washdrops. Use the code FansSaveNow at checkout through 12/31/2014.
For more information about Washdrops, please visit: Washdrops.com. Fans can also keep up with the latest from Washdrops on Facebook and on Twitter @washdrops.
ABOUT WASHDROPS:
Made in the USA, Washdrops is convenient, economical and easy to use. Known as "the smart car wash solution," Washdrops is biodegradable, non-foaming, and solvent-free. Washdrops is available in 16-ounce (16 washes), 32-ounce (32 washes) or 1 gallon (up to 128 washes) sizes and is available on washdrops.com, thecequentstore.com and Amazon.com.
ABOUT CEQUENT CONSUMER PRODUCTS:
Cequent Consumer Products, Inc. is the industry's leading designer, manufacturer and marketer of innovative consumer goods and automotive aftermarket products. For more than 85 years, Cequent Consumer Products has produced some of the most dependable products on the market including superior quality towing and hitch systems, trailer components and accessories, wiring, lighting and brake systems, cargo securing, cargo carrying, rack systems, as well as household and industrial brooms and brushes. Cequent's brands are leaders in the industry and include: Washdrops, Reese Towpower, Reese Carry Power, Reese PowerSports, Highland, Aqua-Clear, Laitner, Harper, Rola, Fulton and Bulldog. Cequent Consumer Products is part of the Cequent Americas segment of TriMas Corporation headquartered in Bloomfield Hills, Michigan. http://www.cequentconsumerproducts.com