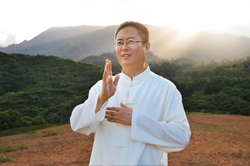 Everyone is a miracle soul healer. Learn how. -- Dr. and Master Zhi Gang Sha
San Francisco, CA (PRWEB) July 17, 2014
New personal testimony written in the Gratitude Basket on the Chanting Channel site, reveals Linda Watson's story about how she used Dr. and Master Zhi Gang Sha's new interactive Soul Healing Miracles™ Chanting Television Channel to bless her daughter and reverse a breast mass that showed up in a mammogram screening. On the site, Linda writes how she "heard from her daughter who is a nurse that a mammogram screening showed a mass in her breast." Linda's note on the Gratitude Basket section of the Chanting Channel site tells how she visited the Chanting Channel to request blessings from the thousands of people chanting online together to heal her daughter's breast mass, and how, after chanting for her daughter's health, the next day's mammogram screening came up negative. "I went onto the Chanting Channel and asked all my soul power family to chant for her," says Linda Watson. "My daughter called me after her second mammogram and meeting with the doctor to tell me nothing was found. No growth, no tumor, no mass." After just 24 hours of requesting a blessing on the Soul Healing Miracles™ Chanting Television Channel, Linda Watson's daughter obtained a clear breast mammogram. Linda Watson adds, "I am beyond grateful to the Divine, Dr. and Master Sha and the trillions of souls that are with us on the chanting channel saving my daughter's life." For the first time ever, Dr. and Master Sha bridges the world with a 24 hour a day, 7 days a week with the interactive Soul Healing Miracles™ Chanting Television Channel to teach others how to self-heal and join hearts and souls together to heal the world with soul-guided chanting through the teachings of sound therapy led by his Divine Channels and advanced students. To experience a personal transformation, go to the Chanting Channel: http://tv.drsha.com/nav.action?home=#.U8WB-k0g8kI.
Watch the promotional video at https://www.youtube.com/watch?v=sz5JfcblbmI#t=12.
Now, Dr. and Master Sha presents the Soul Healing Miracles™ Chanting Channel available anytime, anywhere via webcast television. Completely interactive and free, Dr. and Master Sha's Chanting Channel provides viewers with opportunities for developing their spiritual journeys by learning to use chanting for healing, as well as ask questions, request blessings, and interact with Master Sha and his Worldwide Representatives anywhere in the world. Launching January 25, 2014, viewers are invited to visit the very first 24 hour a day, 7 days a week chanting television channel and participate in a community of soul healing and support from their own homes via this weblink:http://tv.drsha.com/nav.action?home=#.U8WB-k0g8kI.
Throughout history, chanting mantras has been one of the most powerful spiritual and energetic practices since humans have been on the planet. Chanting involves repeating special sacred vibratory sounds, mantras or songs for healing, rejuvenation, purification of one's life. In a Daily Mail article (http://www.dailymail.co.uk/sciencetech/article-563533/Gregorian-chanting-reduce-blood-pressure-stress.html), a senior lecturer in neuroscience was quoted saying that, "the musical structure of chanting can have a significant and positive physiological impact and that chanting has been shown to lower blood pressure, increase levels of the performance hormone DHEA as well as reduce anxiety and depression."
Why Does Master Sha offer the Soul Healing Miracles™ Chanting Television Channel for Everyone?
In December 2012, Master Sha's Divine Channels chanted non-stop 24 hours a day, 7 days a week culminating in a powerful movement that inspired thousands of people to join the chanting while they worked during the day and into their evenings. When Hurricane Sandy hit the East Coast last year, people jammed the teleconference lines seeking answers, blessings and hope. After chanting and singing, participants very quickly shifted their despair to sharing about love and forgiveness to their friends and family on their social networks. When Master Sha gave his annual New Year's Eve Blessing, more than 5,000 people joined in for spiritual blessings for 2013 and 2014. Then, again to celebrate the launch of the Chanting Channel, Master Sha's Divine Channels chanted for world peace 24 hours a day from December, 2013 through January 9, 2014 with thousands of people joining every day. It is very clear that people are seeking non-religious, yet spiritual guidance, knowledge and hope from the eminent soul leader Master Zhi Gang Sha.
This is why Master Sha created the Soul Healing Miracles™ Chanting Channel as a free service for anyone who needs a place to turn to during unexpected life challenges, such as the loss of a loved one, illness, tragedy, financial collapse or when the world faces natural disasters or catastrophic conditions. Individuals are invited to join in chanting, to help themselves, while serving humanity and Mother Earth. Master Sha empowers people to connect more deeply with the Divine through the chanting practices, alone or with groups. Participants will be able to help transform the consciousness of humanity and create love, peace and harmony. In addition, they will have an opportunity to make personal requests and have the entire TV channel community chanting for them. This is an extraordinary opportunity because chanting in groups and multiples greatly benefits all exponentially. Plus, participants will be able to express gratitude and share their activities on their preferred social media platforms.
In a time when more people are looking to answers to life's questions, Dr. and Master Sha is proving to be a popular choice. Dr. and Master Zhi Gang Sha is the world-renowned miracle soul healer. He has created thousands of soul healing miracles worldwide in the last ten years (http://www.youtube.com/zhigangsha). He is the founder of Soul Mind Body Medicine®. He was trained as a conventional medical doctor in China and a doctor of traditional Chinese medicine in China and Canada. The founder of the Institute of Soul Healing and Enlightenment™ and the Love Peace Harmony Movement™, Dr. and Master Sha is a grandmaster of many ancient disciplines, including tai chi, qigong, feng shui, and the I Ching. Master Sha is also an expert in the most advanced cellular healing science now occurring in China. In the West, he is involved in breakthrough research on the effects of spirit on the human system. Dr. Sha was named Qigong Master of the Year at the Fifth World Congress on Qigong. In 2006, he was honored with the prestigious Martin Luther King, Jr. Commemorative Commission Award for his humanitarian efforts.
Dr. and Master Sha is author of more than 10 books in the Soul Power Series published by Simon & Schuster (Atria Imprint), with each book reaching the New York Times bestselling list and four of them reaching #1. Master Sha's new series, Soul Healing Miracles, is published by BenBella with the first book entitled Soul Healing Miracles: Ancient and New Sacred Wisdom, Knowledge and Practical Techniques for Healing the Spiritual, Mental, Emotional and Physical Bodies. Released in November 2013, it was an instant national bestseller landing on the USA Today, Wall Street Journal and Amazon bestseller lists within days of publication.
Visit Dr. and Master Sha on his website, http://www.DrSha.com and http://www.facebook.com/DrandMasterSha, to receive free daily Soul Healing blessings via webcasts, teleconferences 24/7 Chanting Channel, and in-person at events held throughout the world.