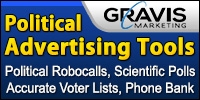 This is good news for the Cotton camp, This is one of the races to watch this November as it is a must carry seat for Republican if they want to pick up the US Senate. - Gravis Marketing founder Doug Kaplan
Winter Springs, Florida (PRWEB) July 15, 2014
This past week Gravis Marketing has released two new surveys that look at the political landscapes of Arkansas and Arizona at the current time.
Gravis Marketing surveyed 987 registered voters who are likely to vote in Arkansas and its survey has a margin of error of ±3%.
Gravis Marketing currently shows in its Arkansas poll that the Arkansas Senate race is leaning towards Republican candidate Rep. Tom Cotton. Democratic Senator Mark Pryor still has time to catch up but with a deficit of 51-44% to Rep. Cotton he will have a lot of work to do. As for the Arkansas Governor race, Gravis Marketing found the race locked in a tight contest between Ex-US Representative Asa Hutchinson (R) and Ex-US Representative Mike Ross (D). Finally, the Arkansas Attorney General race seems to be leaning towards Republican Leslie Rutledge since she leads the Democratic candidate, State Representative Nate Steel, 51-41%. The polls are conducted using automated ivr (auto dialer software).
This is good news for the Cotton camp who has been rising in other polls as of late, this is one of the races to watch this November as it is a must carry seat for Republican if they want to pick up the US Senate. Gravis Marketing head Doug Kaplan believes, "This is great news for the Republican Party and its chances for retaking the US Senate." It is clear that Democrats will have a difficult time in Arkansas this year with President Obama's approval ratings are at 32% in this state while his disapproval ratings are at 61%. Time will tell if Pryor will survive this hostile environment for Democrats in November.
The Arkansas Poll Results can be found here.
Gravis Marketing also did a survey in the Arizona primary elections for the Governor and row office elections, the survey has a margin of error of ±4%.
In its Gubernatorial Primary question Gravis Marketing found State Treasurer Doug Ducey leading the Republican field with 28% in the poll, he is followed by former Go Daddy CEO Christine Jones with 19%. Gravis also found that the Attorney General race had the sitting Attorney General Tom Horne (R) losing to his Republican challenger Mark Brnovich 44-29% in the primary. The same goes for State Superintendent John Huppenthal as he is losing to his GOP primary challenger Diane Douglas 40-35%. In the Secretary of State and Treasurer races Gravis found that 57% and 61% of respondents were uncertain about who to choose for the nomination, there were also large numbers of uncertain voters in the Superintendent, Attorney General, and Governor primaries as well.
Given the fact that Attorney General Tom Horne is facing trouble and his primary opponent is underfunded and received an endorsement from Republican Governor Jan Brewer it is safe to say this race isn't leaning Horne's way. Doug Kaplan also said, "It will be interesting to see if Attorney General Horne can bounce back, a 15% deficit in a primary can be difficult to climb out of." State Superintendent John Huppenthal is also behind in his primary, this might be due to some controversial remarks he has made in the past.
The Arizona Primary Poll Results can be found here.
Gravis Marketing is a non-partian marketing research firm that has a political call center located in Florida.