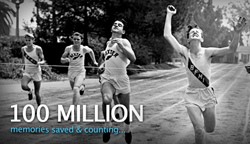 ScanCafe is the first company to scan and manually color-correct 100 million images.
HAYWARD, CA (PRWEB) July 17, 2014
ScanCafe, the world's most trusted photo-scanning service, announced it has preserved its 100-millionth image. The California-based company is the first in the industry to reach this milestone. All 100 million images have also been processed and manually color-corrected by expert technicians after scanning.
To put that figure in perspective, 100 million would be the number of photos produced if someone had taken a picture every minute of every day since the invention of photography in 1838—a total of 176 years of minute-by-minute snapshots. And a single technician working round-the-clock would require 570 years to complete the manual processing ScanCafe has performed on these images.
A team of highly trained technicians is one key to the company's success; another is an unparalleled commitment to technology. ScanCafe utilizes state-of-the-art equipment and software in every phase of operations, allowing the company to digitize any photographic media with optimum safety, quality, and efficiency. Photographs in albums, for example, can be scanned without removing them, thereby alleviating that risk of damage to these often fragile prints.
It is estimated that in the United States alone there exist more than 500 billion photographic images. "Every photo stored away is deteriorating and losing color, and will soon be lost. We are so proud of scanning our one-hundred-millionth photo, but we have only scratched the surface," said Naren Dubey, the company's CEO and Co-founder.
Established in 2006, ScanCafe has garnered numerous awards and overwhelming critical acclaim for the range and superiority of its photo scanning and restoration work. Money Magazine named ScanCafe its best scanning service, and the company has been cited for outstanding quality by both Popular Photography and MacWorld.
ScanCafe serves professional photographers and amateur enthusiasts alike, and is dedicated to preserving the visual memories of its clients from all common analogue formats. It digitally preserves and repairs old photos, slides, negatives, movie film, and videotapes, creating files that can be safely stored on virtually any electronic device or cloud service, and easily shared via social media.
The company currently serves customers throughout the United States and Canada.
For more information on products and features, please visit: http://www.scancafe.com, or follow conversations at http://twitter.com/scancafe.