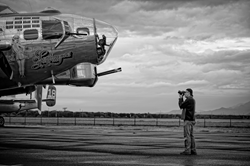 We are excited to work with the Commemorative Air Force's B-17, Sentimental Journey, as the polished metal skin of the aircraft makes it such a beautiful subject during sunset and twilight photo shoots. - Doug Glover, 3G Photography Instructor
Atlanta, Georgia (PRWEB) July 17, 2014
Expanding upon this past year's successful photography workshop series, 3G Aviation Media (http://www.3gaviationmedia.com) is hosting a photography mini-workshop during the Atlanta Warbird Weekend (http://www.atlantawarbirdweekend.com) on the afternoon and evening of Saturday 27 September 2014. The half-day workshop will focus on providing photographers a unique opportunity to photograph historic WWII aircraft while learning photography techniques that they can then apply to the event's two photo shoots. Attendees will have an opportunity to capture the wide variety of warbirds in attendance during the Warbird Weekend, and will also have exclusive access to the subjects for an evening photo shoot starting just before sunset.
"We are excited to work with the Commemorative Air Force's B-17, Sentimental Journey," says Doug Glover, one of the 3G instructors, "the polished metal skin of the aircraft makes it such a beautiful subject during sunset and twilight photo shoots." The capstone event of the mini-workshop will be an exclusive flightline photo shoot featuring the B-17 and select warbirds as subjects, all arranged, positioned, and lit by the 3G Aviation Media instructors. Through a mixture of classroom presentation, hands-on instruction and group interaction, attendees are presented with a controlled environment where they can try new techniques with subjects they may not have readily available. The low instructor-to-student ratio provides ample opportunity for one-on-one instruction throughout the workshop, if desired.
The mini-workshop will kick off with several brief classes to equip participants with the knowledge to safely navigate the flightline and how to focus on aircraft details in a crowded environment such as the Warbird Weekend. After a photography session encompassing all of the aircraft staged for static display, attendees will break for a late afternoon snack and a quick class on the evening's shoot. Once equipment is prepared, and the lighting is best, the workshop will move back outside to an exclusive, small group shoot with "Sentimental Journey" and other vintage warbirds. As the sunset illuminates the aircraft, the 3G instructors will be on hand to answer questions and offer photographic assistance to the attendees. The shoot will continue after the sun sets as attendees can experiment with a variety of lighting types provided by the 3G team, all in the interest of improving photographic technique.
Cost for the mini-workshop is $99, and photographers interested in finding out more about the mini-workshop, should visit the Atlanta Warbird Weekend website at: http://www.atlantawarbirdweekend.com/photography.htm.
About
The Atlanta Warbird Weekend is hosted by members of the Dixie Wing of the Commemorative Air Force and Atlanta Aero Club to promote the preservation and education of American military aviation history and aircraft in Atlanta. http://www.atlantawarbirdweekend.com
3G Aviation Media is a joint venture between a group of aviation photographers who wanted to partner for specific projects while still retaining their own brand and artistic identity. - Tony Granata, Matt Genuardi and Doug Glover. With the a mantra of "Learn, Plan, Execute, Develop", the 3G team brings a disciplined, one-on-one approach that is focused on the workshop attendee, providing maximum growth over a short, focused period of instruction. http://www.3gaviationmedia.com
Arizona Airbase of the Commemorative Air Force is located at Falcon Field in Mesa, Arizona. The group is comprised of 400 members and currently operates a fleet of seven operational World War II aircraft, including the flag ship B-17 Flying Fortress "Sentimental Journey", B-25 Mitchell "Maid in the Shade" and a C-47 Skytrain. Airbase Arizona's 30,000 sq ft. hangar and museum hosts tours and special events throughout the year. http://www.azcaf.org/
The Dixie Wing of the Commemorative Air Force - Based in Peachtree City, GA, the group was founded in 1987 as the 83rd chapter of the CAF and is comprised of 250 members and six operational World War II aircraft that participate in over twenty air shows throughout the United States. The Dixie Wing hosts patriotic and educational events at the CAF Dixie Wing Historical Airpower Facility, including Peachtree City's annual Veterans Day observance and free tours for schools and youth groups. http://www.dixiewing.org
The Commemorative Air Force is a national 501c3 education non-profit organization dedicated to flying and restoring World War II aircraft as a tribute to America's veterans. Based in Midland, Texas, the organization has more than 9,500 members and operates a fleet of 150 World War II aircraft. http://www.commemorativeairforce.org/