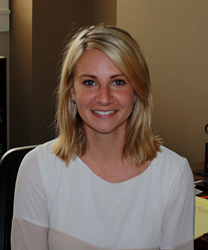 I can't wait to begin building strong and wonderful relationships with residents and staff!
Cincinnati, OH (PRWEB) July 16, 2014
Llanfair, a premier continuing care retirement community serving southwest Ohio, welcomes new addition to their team of professionals, Taylor Buchtmann, Admissions Case Manager.
Taylor graduated in 2013 from Ohio Valley University with a Bachelor's Degree in Interdisciplinary Studies with a focus on psychology, chemistry and wellness. Just this past March, she finished her nine month AIT (Administrator in Training) program and her goal is to one day become a Nursing Home Administrator.
"I am very happy to be part of the Llanfair family," Taylor says. She goes on to say, "I can't wait to begin building strong and wonderful relationships with residents and staff!"
With five years experience working in the field of continuing care, in both the dietary department and administrator's training program, Taylor's well-rounded understanding of the long term care industry will prove to benefit the families and residents that Llanfair serves.
At Llanfair, Taylor will help families and prospective guests who are in search of a short term rehabilitation stay, after an illness, injury or surgery, in the new Rehab Center at Llanfair. With a contemporary aesthetic feel and all private suites, the center is designed around a common theme of wellness and resiliency. Guests will benefit from sessions with trained therapy professionals for physical, occupational and speech therapies.
If you or someone you know is in need of a short term rehabilitation stay, please call Taylor Buchtmann, at 513.591.4516 or tbuchtmann(at)llanfair.oprs(dot)org.
Llanfair Retirement Community is one of 11 retirement communities owned and operated by OPRS Communities, a wholly owned subsidiary of Ohio Presbyterian Retirement Services (OPRS), headquartered in Columbus. Since 1922, OPRS has defined the highest standards of quality of life for older adults. Each year, OPRS serves more than 73,000 people annually through its wholly owned subsidiaries OPRS Communities and Senior Independence.
For more information, call 513.681.4230 or visit our website at http://www.llanfairohio.org.
###