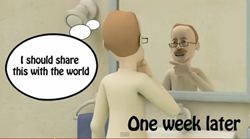 San Francisco, CA (PRWEB) July 17, 2014
Natural health product pioneer Zion Health has just released a video that chronicles the idea that started the company. "It all started with toothpaste" begins with Ron, who is suffering from gum disease and will most likely need intense treatment. Unwilling to undergo surgery, he searches for alternatives and finds a solution in montmorillonite clay. Ecstatic, he decides to "share [his] remedy with the world" and develops a toothpaste that is powerful enough to naturally prevent gum disease.
Zion's ClayBrite toothpaste contains high-grade, nutrient-rich minerals from a unique type of clay called calcium montmorillonite (Kanwa clay), known for its stimulating healing properties. According to Scientific American (Millot, 1979), the clay increases the production of peptides in amino acids and holds an ionic field of energy that helps stimulate energy at a cellular level. Zion Health products with Kanwa clay are plant based and not tested on animals.
Zion Health's unique line of body care products is now available at health food markets, co-ops and other stores throughout the United States and Canada. Zion provides its consumers with pure skin and body care products that are 100% vegan, free of parabens, and aluminum and formulated using certified organic ingredients whenever possible. For more information on Zion Health products, go to http://www.zionhealth.com.