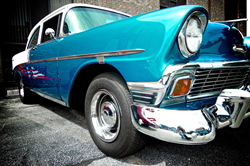 "This event is the highlight of our year. This is our way of saying thank you to all the brave men and women of our Armed Forces." Joshua Wells President, Euclid Financial Services
EAST PROVIDENCE, RHODE ISLAND (PRWEB) July 22, 2014
The 2nd Annual Euclid Charity Car Show, presented by Euclid Financial Services, is quickly approaching. Mark the calendar for August 17, 2014, from 12PM to 5PM. The event promises to be a fun day to enjoy some quality time with the family and friends. At the same time, it is a wonderful opportunity to support members of the Military that need our help. Americans traditionally show their respect for members of the US Armed Forces, and supporting the Wounded Warrior Project is a chance for us to give back to them. Last year's show was a huge success, and this year it has been expanded in many ways.
The 100 classic cars, which will be at the event, will receive a gift bag, professional photo with their car and a calendar. There will also be a "Best in Show" winner with a cash prize. The show will feature: 33 local business booths, 80 local business banners, a DJ and a live band. There will be a Euclid VIP tent with complementary food and an inflatable jousting arena for Verizon, Nstar, NU and National Grid employees, as well as local politicians and Euclid financial services clients. During the event, there will be prizes, raffles and give-a-ways, plus much more. Over 5,000 visitors are expected.
It is the generous, tax deductible donations to The Wounded Warrior Project that enable them to help thousands of injured warriors returning home from the current conflicts, and to provide assistance to their families. As the number of the wounded steadily rises, it is easy to see how the needs of these brave individuals also increase. The event is being held at 225 Newman Ave., East Providence, RI 02916, and RSVP is required for car attendees, lverducci(at)gilinow(dot)com or rsvp(at)euclidsfs(dot)com. Please inquire as soon as possible, apply by 07/31/14. For more information contact Euclid Financial Services at 401-727-2727 or http://www.EuclidFinancialServices.com.
Josh Wells founded Euclid Financial Services LLC with the vision of creating a truly world-class experience for clients. The firm currently manages over $100M in assets. Euclid Financial Services is a top 30 producer in the nation for retirement planning. As an independent financial planning firm, they are able to represent their clients' best interests, rather than any specific company. This unfettered independence is vital to their delivering objective, unbiased recommendations.