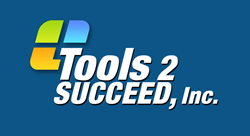 Well-organized, clearly presented, knowledgeable, not long-winded, some humor.
Westlake Village, CA (PRWEB) July 16, 2014
Tools 2 Succeed now offers live in-house training on Sexual Harassment Prevention in the Greater Los Angeles area in both English and Spanish. Supervisors and managers will receive information and practical guidance regarding federal and state sexual harassment laws, including harassment prevention and correction, and remedies available to victims.
Learning Objectives for the Live In-House Training Include:
1. What are unlawful harassment, discrimination and retaliation under both California and federal law?
2. What steps to take when harassing behavior occurs in the workplace.
3. How to report harassment complaints.
4. How to respond to a harassment complaint.
5. The employer's obligation to conduct a workplace investigation of a harassment complaint.
6. What constitutes retaliation and how to prevent retaliation.
7. Essential components of an anti-harassment policy.
8. The effect of harassment on harassed employees, co-workers, harassers and employers.
Also available are online e-Learning courses for Sexual Harassment Prevention for California Supervisors (AB 1825) in both English and Spanish. The courses educate supervisors and managers as well as staff-level employees about the causes and effects of sexual harassment in the workplace. They look at the elements that define behavior as harassment, methods that can be used to prevent harassment from occurring, and ways to deal with situations should they occur.
Noel Rauda-Trout, CEO of Los Angeles Education Corps, made these comments about the live Sexual Harassment Prevention in-house workshop on July 11, 2014: "well-organized, clearly presented, knowledgeable, not long-winded, some humor."
For more information on the live or online training, please visit http://tools2succeed.com/shar.html
About Tools 2 Succeed, Inc:
Tools 2 Succeed provides business training, consulting, and coaching services to facilitate organizational growth and change. Services include onsite employee development training, leadership workshops, outplacement services, behavioral assessments, and an extensive offering of e-learning courses. We are based in Southern California and have a worldwide team of facilitators who can provide onsite training and consulting at your location.
Tools 2 Succeed is an Approved Provider of the Human Resources Certification Institute (HRCI), offering fun and interactive public workshops, webinars, and online e-Learning courses for HRCI recertification credit.