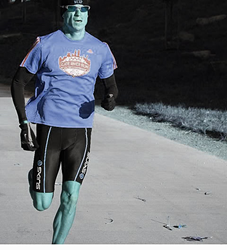 The object of life is not to be on the side of the masses, but to escape finding oneself in the ranks of the insane. ~ Marcus Aurelius
Louisville, KY (PRWEB) July 16, 2014
Nathan Pennington, founder of Louisville-based marathon training website RunDreamAchieve, has added ultimate health and well-being business Max International to his services and offerings. Max International offers numerous products that focus on ameliorating health threats we face daily such as environmental toxins, industrial pollutants, unhealthy habits and the overall demands and stress of every day life. In addition, these products work to enhance the user's experience and performance during distance running and other forms of athletic endurance.
Max International's products are designed to enhance one truly vital component of health and well-being: glutathione. Glutathione, a super antioxidant, is a critical molecule that exists within every one of the trillions of cells that make up the human body. Low levels of it are linked to oxidative stress and cellular inflammation. Max International is recognized as the world leader in glutathione supplements because of its science-based developments and formulations, which assist in the body's natural ability to operate at optimum wellness.
"I have always sought the truth and ways to break the matrix of spending such a significant amount of effort not realizing our full potential," Pennington said. "I've often wondered how so many people who are physically or emotionally sick can give so much of their time and money and never really find a solution. As a 2.19 marathoner and life-long student of exercise physiology, I have invested an enormous amount of my time and energy studying health, athletic performance and mindset and want to share that expertise with those who seek alternatives".
After carefully examining and using its products, Pennington, a 23-year athlete, distance runner and active duty military since 2002, discovered Max International was not only an ideal solution to the increasing number of global health and wellness issues, but also the opportunity for increased wealth, personal development and to make a momentous difference.
"Max believes its partners should be rewarded generously for their efforts," Pennington said. "They offer one of the most lucrative compensation packages in this particular industry, awarding up to 50% of commissions based on applicable sales volume."
Pennington's overall mission with the RunDreamAchieve Max International Team is to help others get what they want out of life, especially when it comes to personal achievements: physical and emotional and now financial. Enduring an enemy attack on the Afghanistan-Pakistan border in 2012 awakened his creative instinct and desire to live "outside the matrix" he believes far too many people are trapped in.
Fore more information on RunDreamAchieve and it's Max International team and products visit http://www.rundreamachieve.com. Pennington can be reached for questions and interviews at (719) 201-4151.