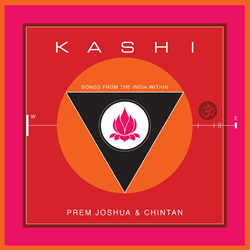 Boulder, Colorado (PRWEB) July 17, 2014
When Prem Joshua first journeyed over land from Germany to India in 1977, the young musician set out to study the varied indigenous folk music of countries along the way. He had played flute since the age of five, and was playing saxophone in several bands. But when Joshua reached India, he felt an immediate and profound connection beyond anything he'd ever felt before. He felt like he had come home.
The eighteen-year-old became deeply inspired by the ancient spirituality of his new adopted home and began to hear his music as well in terms of fusing the familiar forms of western music with the exotic Eastern sounds that the culture of India began to unfold for him. He learned to play sitar and excelled under the tutelage of his teacher Ustad Usman Khan. The experience was life-changing.
Joshua took on the name "Prem," which means "love" in Hindi. He has tirelessly devoted his life's work to channeling India's rich spiritual depth into a new, global language through his music, recording a prolific nineteen albums over the past two and a half decades. From combining elements of lilting, nuanced jazz with mantra incantations, to infusing Hindustani acoustic instruments with trance beats, his innovations have contributed greatly to the Asian Underground east-west fusion scene as well as the ever-growing ambient genre of meditation music, where he is among the best-known and most beloved pioneers.
With his new album KASHI: SONGS FOR THE INDIA WITHIN, Prem Joshua and his talented ensemble have crafted a sparkling suite of new songs around beloved, traditional Indian mantras and shlokas (a type of couplet verse that is the basis of such ancient Indian poetry as the The Mahabharata and Ramayana epics). But tradition aside, each original track – composed by Prem Joshua and collaborator Chintan Relenberg – offers a fresh take on devotional music that is transcendent but utterly and accessibly contemporary – and always highly enjoyable as well as enlightening.
While some songs pay homage through mantras to Hindu deities – Krishna, Ganesha, Durga, Shiva – Prem Joshua says "the images…have less to do with a religious belief system than a representation of basic life energies; so it is with mantras. It is not about blindly adopting religious concepts, but rather about experiencing these images and sounds as guide maps for the inner journey."
Opening with the atmospheric "Balakrishna" -- a modern take on kirtan that celebrates the life-affirming divine child Krishna and evolves into a breezy, beat-laden excursion -- the album traverses rich and diverse terrain in both style and content. Throughout, the mellifluous vocal chemistry of singers Hamsika Iyer (known for her work with Bombay Dub Orchestra and Juno Reactor), Prem Joshua himself, and Sanou Olszewski is framed with great subtlety by the multi-instrumental arrangements of Joshua (sitar, bamboo flute, and saxophones), Chintan (keyboards, bass, tabla, kanjira, pandeiro, udu, drum programming), guitarist Werner Schultheiss, and tabla player Raul Sengupta.
"Tumhaari Mara" marries sitar and Indian melody, vaguely evocative of Bollywood, with sturdy reggae rhythms and deep bass -- as its lyrics honor the revered 16th century Rajasthani royal poet-saint Meera. The humorously-titled "All Roads Lead to Om," (as opposed to "Rome") -- a joyfully lovely groove -- draws its prayer from the Brihadaranyaka Upanishads, which -- at over 3,000 years old – are considered the oldest of all Vedic texts, yet its message remains as urgently relevant today as ever. Joshua says, "In a world where fanaticism and ignorance seem to be taking hold ever more strongly, this prayer shines like a beacon – guiding our journey along the 'road to Om.'"
The final track, over ten minutes long and a stately yet rapturous delivery of the full traditional "Lingashtakam" mantra in honor of Lord Shiva, builds to a luscious vocal crescendo before easing gracefully off into mellow instrumentation, wrapping up a thoroughly rewarding and soulful sonic experience – and leaving the listener wanting more.