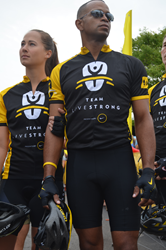 "Throughout the last seven years, he has fought the disease with such grace, courage and dignity. There's no one more deserving of this award than Stuart Scott. All of us at LIVESTRONG are humbled by his strength."
Austin, Texas (PRWEB) July 16, 2014
ESPN icon Stuart Scott will be presented with the Jimmy V Perseverance Award at tonight's ESPYs for showing a positive attitude, persistence and determination in the face of a great obstacle – a seven-year battle with appendiceal cancer. Scott, who has been a beacon of strength in the face of cancer, epitomizes the LIVESTRONG Foundation's ethos that attitude is everything. LIVESTRONG is proud to call Scott a friend and supporter and congratulates him on this prestigious honor.
Scott was first diagnosed in 2007 and was pronounced cancer free after two surgeries and chemotherapy only to see the disease return in 2009. As part of his regimen to stay strong and in fighting shape, Scott has famously continued his martial arts training, while actively advocating on behalf of cancer patients and survivors worldwide via his Twitter account.
"Stuart is a legendary sportscaster, but more importantly he is an even better friend and a great father to his two wonderful daughters," said LIVESTRONG Foundation President and CEO Doug Ulman. "Throughout the last seven years, he has fought the disease with such grace, courage and dignity. There's no one more deserving of this award than Stuart Scott. All of us at LIVESTRONG are humbled by his strength."
You can watch Stuart receive his award during the ESPYs 8 p.m. CST tonight on ESPN. Previous cancer survivors to receive the award include former NBA coach George Karl and N.C. State's Women's Basketball Hall of Fame coach Kay Yow.
About the LIVESTRONG Foundation
The LIVESTRONG Foundation fights to improve the lives of people affected by cancer now. Created in 1997, the Foundation is known for providing free cancer support services and advocating for policies that improve access to care and quality of life. Known for its powerful brand – LIVESTRONG – the Foundation has become a symbol of hope and inspiration around the world. Since its inception, the Foundation has served 2.5 million people affected by the disease and raised more than $500 million to support cancer survivors. One of America's top non-profit organizations, the Foundation has been recognized by industry leaders including Charity Navigator, the National Health Council and the Better Business Bureau for its excellent governance, high standards and transparency. For more information, visit LIVESTRONG.org.
###