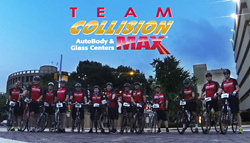 "This is a charity that is near and dear to our hearts," said Mr. Mulvey. "Our company has several employees who are cancer survivors, and the families of nearly every member of our team have been touched by cancer."
Trevose, PA (PRWEB) July 16, 2014
A team of cyclists sponsored by CollisionMax, an auto body and glass repair business with 11 shops in the Delaware Valley, raised nearly $3,500 for the American Cancer Society by riding in its annual charity bike ride, the company announced today.
The sixteen riders of Team CollisionMax rode 65 miles last Sunday from Philadelphia to Buena Vista, in Atlantic County, NJ, in the 42nd annual bike-a-thon organized by the charity's Philadelphia chapter.
"It was a great ride, and we all made it," said team co-captain Kevin Mulvey. "What made it even better was that we more than doubled our goal of raising $1,500." He said the team raised a total of $3,472 in donations by CollisionMax, the public, and $150 from each team member.
"This is a charity that is near and dear to our hearts," said Mr. Mulvey. "Our company has several employees who are cancer survivors, and the families of nearly every member of our team have been touched by cancer."
He said another reason Team CollisionMax was created was to help employees improve their health and wellness. "One of our team members lost 20 pounds training for the ride, so we know it's worth the effort."
An estimated 3,300 riders participated in the bike-a-thon, and the event raised more the $1.2 million, according to Jamie Rothman, an American Cancer Society spokesperson. The funds are used to provide free medical treatment to cancer victims and support cancer research, she said. For more information about the American Cancer Society, please visit http://www.cancer.org.
About CollisionMax
CollisionMax is a family-owned auto body and glass repair business with 11 locations in the Delaware Valley. In New Jersey, CollisionMax operates shops in Blackwood, Cinnaminson, Glassboro, Marlton, Pennsauken, Sicklerville and Westmont. In Pennsylvania, it has repair centers in Oxford Valley, Warminster and two in Northeast Philadelphia (both on West Grant Avenue). It also offers mobile repairs throughout the metropolitan Philadelphia area. For information about CollisionMax, please visit http://www.collisionmax.com.