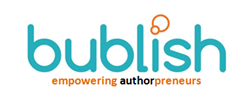 "This investment is a huge endorsement of the Bublish platform," said Kathy Meis, Bublish Founder and President.
Charleston, SC (PRWEB) July 16, 2014
Bublish — the only cloud-based platform that provides a complete social marketing solution for today's business-savvy authors — has raised an investment of $300,000 from a private investor. This brings the total capital raised by this two-year-old publishing technology company to $390,000.
Bublish fills the marketing void experienced by today's traditional, hybrid and self-published authors and small publishers with an option of two dashboards that offer book promotion tools, metrics and resources. The Emerging Author Dashboard is allows authors to promote their first book for free. The Authorpreneur Dashboard, a subscription-based model, allows authors to harness the power of the Bublish platform to build their brand, reach their readers and track audience engagement. Features include the ability to:
*Create and manage unique social content called book bubbles
*Promote books as they are written (coming this month)
*Generate a beautiful ePub (coming this month)
*Build author brands with a highly shareable Bublish Author Profile
*Track social metrics, reader engagement and conversions
*Share multiple books and bubbles (excerpts) across social media
*Learn what resonates with readers
*Access exclusive tutorials and programs
*Capture pre-orders (coming this month)
*Collect reader emails (coming in August)
*and much more…
The funds will be used to enhance the platform's feature set, and for marketing and business development. Specific plans include:
*developing a suite of powerful creation and book promotion tools for publishers, additional social media integrations and book distribution services
*expanding marketing capabilities and reach
*increasing business development partnerships with key publishers and industry influencers
"This investment is a huge endorsement of the Bublish platform," said Kathy Meis, Bublish Founder and President. "Our capabilities consistently expand as our user base of authors and readers continues to grow exponentially."
Bublish was one of eight companies to graduate from the inaugural cohort of the Harbor Accelerator — a business accelerator program within The Harbor Entrepreneur Center. One-hundred and sixty applicants were interviewed to determine the most scalable business concepts, entrepreneurial spirit and drive to succeed. Bublish has raised the most funding, to date, among the Accelerator's first graduating class.
"The Harbor is proud to be part of Bublish's journey and thrilled to see them secure these funds," stated John Osborne, The Harbor Entrepreneur Center Co-founder and Director. "The Bublish team consistently demonstrates a tremendous ability to adapt quickly to needs in the marketplace and develop a viable solutions for independent authors and small publishers. l'm excited to watch them leverage this financing and build upon their proven success."
About Bublish
Bublish is a publishing technology company that offers cloud-based tools, metrics and resources to equip today's business-savvy authors for success. An innovative, award-winning platform, Bublish empowers "authorpreneurs" by providing a complete social marketing and digital publishing solution. Launched at Book Expo America in June of 2012, Bublish is changing the way writers share their stories and reach their readers. Thousands of authors around the world are already using Bublish to promote their work and build their brand. http://www.bublish.com Follow us: @BublishMe, facebook.com/bublishme, pinterest.com/bublish, bublishme.tumblr.com and bit.ly/BublishGoogle.