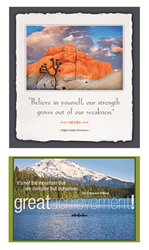 WEST DUNDEE, IL (PRWEB) July 22, 2014
SaveATreeCards.com announced today the debut of its Featured Artist Gallery, a premier corporate ecard collection showcasing the works of fine artists and photographers. Pairing award-winning imagery with professional design, the new collection gives businesses a high-visibility way to build relationships; show employee appreciation; and connect with customers, colleagues, and prospects.
The first featured artist in the gallery is Bruce Heinemann, one of America's foremost landscape photographers. Heinemann is author of seven books, and his images have appeared in publications including Sierra Magazine, Audubon, and National Geographic. He is a recipient of the Virginia Merrill Bloedel Lecture Fellow Award — an honor given to those contributing to the welfare of nature. Heinemann's gallery on SaveATreeCards.com includes more than 100 electronic greeting cards with inspirational quotes from noted inventors, poets, and philosophers.
"Bruce Heinemann's photography is stunning in its detail and beauty," noted Lisa Dombrowski, president of Logica3 Ltd., the creator of SaveATreeCards.com. "We are proud to be the exclusive source for ecards featuring his work."
"SaveATreeCards.com has a very talented group of designers who demonstrate a real sensibility for grasping the essence of imagery, in terms of colors, lines, and shapes," added Heinemann. "More important, they know how to evoke the metaphorical and emotive content of an image. This is critical in working with my photography and producing cards that give businesses higher impact communications."
To view Heinemann's ecard gallery and send a greeting, visit: http://www.SaveATreeCards.com. The site is currently offering a free 30-day trial and an introductory price of $149 for an annual subscription.
With the addition of the Featured Artist Gallery, SaveATreeCards.com now offers more than 500 distinctive corporate ecards, which can be personalized with a message, logo, and website and social media links. The company also designs fully customized business egreeting solutions, such as holiday ecards and sites, employee and peer-to-peer recognition sites, marketing campaigns, and more.
About Bruce Heinemann
Bruce W. Heinemann is one of America's most acclaimed landscape photographers. He is creator of seven photographic books, including the current bestseller, The Art of Nature: Reflections on the Grand Design. His images are included in the corporate collections of such companies as Boeing, Northern Trust, Bremerton Public Works, McChord Air Force Base, Washington State Ferries, and many other public and private institutions. His work can be seen at http://www.theartofnature.photoshelter.com.
About SaveATreeCards.com
SaveATreeCards.com was created by Logica3 Ltd., a strategic multi-media communications firm based in West Dundee, Ill. The site provides businesses with a quick and easy way to send branded, personalized greetings to customers, clients, employees, and business associates. SaveATreeCards.com customers range from small businesses and professional services firms to Fortune 100 companies, sending more than 75,000 ecards annually. For more information, call 847.836.3330 or visit http://www.SaveATreeCards.com.