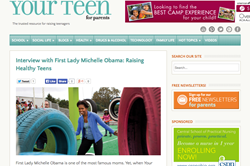 Michelle Obama's focus on child obesity, exercise, and nutrition basically impacts every American's life
Beachwood, Ohio (PRWEB) July 16, 2014
Your Teen for Parents Magazine announces a special interview with First Lady Michelle Obama in the new, July-August 2014 issue of the digital and print magazine dedicated to helping parents raise healthy children and teenagers.
Mrs. Obama has worked to promote healthy lifestyles featuring exercise and better diets for American youth, and has "walked the walk" on fitness and diet through her work with the White House garden, her http://www.letsmove.gov website, and countless interviews and speeches across the United States on health and fitness for today's youth.
The interview is available here: http://yourteenmag.com/2014/06/interview-first-lady-michelle-obama-raising-healthy-teens/.
"We're honored to have First Lady Michelle Obama contribute to Your Teen via this interview," Your Teen Editor-in-Chief Susan Borison says. "Every First Lady chooses an area of culture that is important to them, but Michelle Obama's focus on child obesity, exercise, and nutrition basically impacts every American's life. Our readers will enjoy learning about her insights and opinions."
Covering the growing epidemic of childhood obesity, lack of exercise, and fast food versus fresh food all across America, Mrs. Obama's opinions come from a grounded perspective of experience as both a mother and civic leader.
Explaining how she got started on her campaign to make American children and teens healthier, Obama says:
"My interest in children's health and wellness started several years before I became First Lady. It began with an eye-opening conversation I had with our family pediatrician when my girls were very young. Like a lot of families with two working parents, we didn't always take the time to prepare healthy meals, and relied on take-out and our microwave more than we should have. We soon started to see effects on our family's health, and our doctor advised us to make some changes. As a result, we started eating more fruits and vegetables, drinking more water, watching our portions, and eating less take-out. Soon, we all started feeling healthier and more energetic – so I know firsthand that how we eat can have a significant effect on our health."
The July-August 2014 issue of Your Teen for Parents Magazine also features articles for teens on unplugging from technology and de-stressing, how the teenage brain works, the growing problem of teens and tobacco use, skincare for teens, and the freedom of summer for "tweens."
About Your Teen Magazine:
Your Teen addresses the challenges inherent in raising teens and helps parents of teens to continue the journey toward the goal of successful parent. In the magazine format, parents can post questions, offer personal tactics and hear the different perspectives of professionals, other parents and teenagers on relevant topics. Your Teen hopes to ease the worry.
Your Teen is available at http://www.yourteenmag.com/subscribe and in select Barnes & Noble Bookstores.