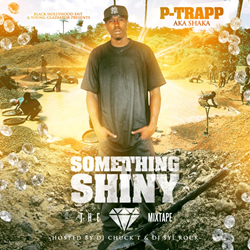 Mixtape with a well-rounded appeal.
Miami, FL (PRWEB) July 16, 2014
Coast 2 Coast Mixtapes announce the release of the "Something Shiny" Mixtape by P-Trapp aka Shaka. The 18 track project is currently available for download. The mixtape features appearances from Scar, Los, D.O., Montana Staxx, Arizzla Da Don, Bonee G, Carolina Blacc, OSB, Dejae, Eddie Dynamite, Mirage, Apostle Paul, Bubba, Cotti Boy, Tfhetti, Parubian, Deejay Syl Rock, and DJ Chuck T.
Born in 1983, P-Trapp aka Shaka was raised in Moncks Corner, South Carolina and then later moved to California where he resided for 8 years. Between being raised by a single parent, and being a natural born go-getta P-Trapp was even more motivated to change his life and pursue his dreams. Dealing with life in the streets on the daily, made for many roadblocks and complications early on and lead to his incarceration from time to time. Now P-Trapp works with Black HollyHood Entertainment to put his music together and entertain his listeners.
In his newest album "Something Shiny", P-Trapp collaborates with many other indie artists including Mirage, Cotti Boy, OSB, and many more. This combination of different beats and flows gives the mixtape a well-rounded appeal. P-Trapp utilizes his artistic ability to paint a picture of a day walking in his shoes and all the trials and tribulations that he must go through. We can feel his emotions in his lyrics when he talks about being incarcerated and how hard it is to trust anyone. His overall style can be compared to The Notorious B.I.G., Young Jeezy, Juvenile, Soulja Slim, and 2pac. The transition between songs is fluid and brings your attention to the next track, making you listen to the entire mixtape without realizing it. Be sure to keep up with P-Trapp and the entire Black HollyHood Ent group on his twitter at @ptrapp843.
About Coast 2 Coast Mixtapes:
Coast 2 Coast Mixtapes are the most widely distributed mixtapes in the world, with over 100 million downloads/plays generated by over 200 volumes officially hosted by major artists. Coast 2 Coast has a solid reach in the new music industry with a digital magazine, DJ coalition, industry tips blog, yearly convention, and more. Coast 2 Coast Mixtapes represents a unique opportunity for artists of all urban genres, from major to indie. For more information, visit http://www.coast2coastmixtapes.com.