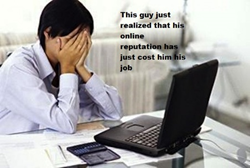 We saw a growing need for a form of reputation management that actually worked
Hollywood, CA (PRWEB) July 15, 2014
The industry leader in online reputation management, ReputationRedo.Com, announced Tuesday that they are now officially teamed with the international PR video news release outfit, On Call News.
This partnership provides ReputationRedo.com the ultimate tool in the fight against burying clients negative online post with video news content that is actually distributed via the top news wire services. The difference between ReputationRedo.Com and any other online reputation management service is that the team at ReputationRedo consists of actual news professionals including anchors and journalists. When a client is in need of an extreme online makeover, they are assigned to a team that will go through and completely make that person look like Mother Teresa if need be when they are searched for online.
"We saw a growing need for a form of reputation management that actually worked. At ReputationRedo.Com, we stand by our work and do whatever we need to in order to get our clients a clean slate when somebody looks them up online.", stated Bryan Dessler, vice president of ReputationRedo.com. "When somebody signs on with the average reputation management company that advertises on TV or the radio, they become just another customer of a publicly traded corporation. At ReputationRedo.Com, we don't just just create a bunch of blogs and stuff them with repetitive content, we actually produce full scale news broadcasts to counteract the negative posts and those are launched by the wire services.", remarked Dessler in comparing what the difference is between ReputationRedo.Com and the nationally advertised reputation firms.
ReputationRedo.Com and OnCallNews.Com are now based in the same production facility in Hollywood, California. With over abundance of entertainment and technical talent within the area, ReputationRedo.Com can boast that their staff consists of the absolute "cream of the crop".
ReputationRedo.Com can be contacted at (310) 498-9303 or by visiting them at http://www.reputationredo.com/.