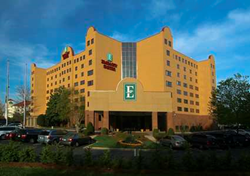 "Our customers are loyal because they get the best value from our services."
Charlotte, NC (PRWEB) July 18, 2014
Greenbee Parking, a rising airport parking service, has announced that their new range of deals are competitive with offers from the even the best Charlotte airport parking coupons. Travelers using the Charlotte (CLT) airport can now expect greater savings on their travel budgets with the affordable parking rates offered by the young company. Whether one is booking for a longer duration or a short one, there is the ability to save 30-75% off airport parking expenses from now on. Parking, especially for those who travel frequently, can be every expensive and with the rising demand of airport parking there has been quite a premium price tag attached to it. All that could be a thing of the past with the innovative Greenbee offers.
"Our customers are loyal because they get the best value from our services," said Christine Cooper – Marketing Coordinator, Greenbee Parking. "We have proven that in order to get great service and save on regular travel expenses like parking there is no need to look for Charlotte airport parking coupons and other promotional offers. With Greenbee, savings are bundled up in our discounted deals."
Charlotte/Douglas International Airport Parking Information
The Charlotte/Douglas International Airport has been ranked as one of the busiest airports both in the US and globally. The Queen City, Charlotte is a major business and tourist hub along with being one of the largest cities in the country. It is also considered a major financial center in the country after New York which shows why the airport sees such a high volume of business travelers round the year. It has non-stop connections with over 175 destinations across the country and the world. The booming airport business has also led to major changes and expansion plans including in airport parking. The expanding parking plans have been positively complemented with the rise of private entities like Greenbee Parking who have come up with varied and innovative options for travelers here. What is heartening to know is that the young company has already established themselves not just for their incredible service but also for deals that offer great spots at affordable rates which can be got without the help of Charlotte airport parking coupons.
The Greenbee Airport Parking Solution
Greenbeeparking.com is the connection between consumers and parking vacancies in close proximity to major airports and seaports. The parking spaces are very affordable because the company has negotiated discounted rates with major hotel chains for the parking spaces that are not currently occupied. Here's how it works.
Greenbee Parking puts the available inventory of parking spaces on their website to be reserved by business and leisure travelers looking for cheap airport parking. This alternative method for finding parking equates to significant savings for the traveler. You can learn more about their offers from (http://youtu.be/RWc3dqhugFA) or via the web at http://www.greenbeeparking.com.
About Greenbee Parking
Greenbee Parking is the nation's most innovative long term parking company, with a new way of making long term parking affordable. The company is rapidly adding new airports to its network.