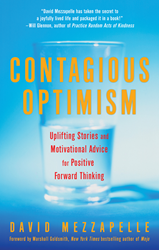 "You may well find out that you are already a much more optimistic person than you thought you were and well on the road to where you want to be."-Examiner
(PRWEB) July 16, 2014
Contagious Optimism: Uplifting Stories and Motivational Advice for Positive Forward Thinking by David Mezzapelle was chosen as a finalist for the Reader's Favorite Award.
The Readers' Favorite Awards is an annual international contest, with entries ranging from independent gems to New York Times best-sellers. Debra Gaynor founded the awards "to provide readers and authors with a resource for free quality reviews and to offer authors the opportunity to obtain more recognition and exposure through a respected annual book award contest."
Join author David Mezzapelle in person for Contagious Optimism Live on October 11, 2014 in Thousand Oaks, CA
About Contagious Optimism (also in audio):
A compendium of encouragement, Contagious Optimism shows readers that it's possible to look for and FIND silver linings in every cloud. Developed by some of the team that brought you Random Acts of Kindness, this book is rather like Chicken Soup for the Soul meets Pay It Forward, with extra pizzazz! Contagious Optimism is pure inspiration that will lift hearts, open minds and create a movement of pass-it-on hope and happiness.
A portion of the proceeds from Contagious Optimism will go to Fairfield University and various charities.