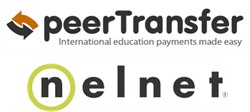 Our two solutions bring together best-in-class technology and service that truly streamlines the international payment experience for students and institutions alike
Boston, MA (PRWEB) July 16, 2014
peerTransfer, the leading provider of innovative global payment solutions for the education industry, and Nelnet, Inc. a leading provider of campus commerce services for K-12 and higher educational institutions, have enhanced their partnership to provide clients with real-time payment status updates via deeper platform integration. In addition, the expanded partnership will include additional Nelnet business units, FACTS Management Company (K-12 tuition management services), Unilink Data Systems (Tuition management services in Australia), and FirstMark (Education Loan Servicing).
"We are thrilled to have finalized the second phase or our integration with Nelnet", said Mike Massaro, Chief Executive Officer of peerTransfer. "Our two solutions bring together best-in-class technology and service that truly streamlines the international payment experience for students and institutions alike."
Nelnet clients can now deploy peerTransfer's international payment solution in QuikPAY and will soon be able to deploy the solution in Enterprise, Nelnet's next generation eCommerce payment platform. This collaboration will provide a seamless and secure way for institutions to collect both international and domestic online payments.
"Deepening our integration with peerTransfer is a great win for Nelnet and the clients we serve," said Tim Tewes, President of Nelnet. "peerTransfer truly understands the needs of the international payer as well as what institutions require when reconciling these payments."
Together, peerTransfer and Nelnet, have highlighted the importance the international student has on campus and delivered an international payment experience where both the institution and the payer benefit.
"We are excited to take advantage of this second phase of integration between peerTransfer and Nelnet," said Mark Waters, Director of Student Receivables at Massachusetts Institute of Technology (MIT). "This integration allows our payers (students and their families) the ability to initiate a peerTransfer payment in our QuikPAY eBilling and ePayment system and receive real-time status updates, while also providing MIT Student Financial Services with a dynamic integration into our student information system, it is the best of both worlds."
About peerTransfer Corp
peerTransfer is the leading provider of innovative global payment solutions for the education industry. The company enables thousands of international students and hundreds of institutions from all over the world to save time and money when making or receiving international payments. Compared to using traditional banks, students can save on lower fees, enjoy a more convenient online experience, and receive superior customer service when dealing with the complexities of international payments. Institutions benefit from peerTransfer's free solution because they remain compliant with ever-changing international regulations and save time and money by improving the processing and posting of international payments. The company is headquartered in Boston, with additional offices in Europe.
For more information, visit http://www.peerTransfer.com.
About Nelnet, Inc.
For more than 35 years, Nelnet has been helping families plan, prepare, and pay for their education. Additional information is available at http://www.nelnet.com.