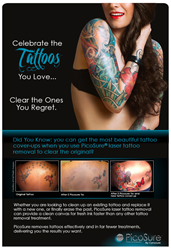 New York, NY (PRWEB) July 17, 2014
For those who harbor tattoo regret stemming from outdated art, a messy job, or a symbolic gesture that has lost its significance, National Tattoo Day on Thursday, July 17 will be the chance to start fresh with a clean canvas. Whether the goal is to clean up the lines of an existing tattoo or totally remove it, Park Avenue Laser Treatment / Dr. Johanna Youner can help with the assistance of the first FDA-cleared picosecond aesthetic laser, PicoSure®. Recognized as the first significant improvement in the treatment of tattoo removal in over 20 years, PicoSure can effectively erase tattoos with fewer treatments and better results.
"Just like a relationship, tattoo trends can easily come and go, leaving one wondering years later what the reason, or lack thereof, of getting the tattoo in the first place," states Dr. Johanna Youner, a certified laser technician and Board Certified Forefoot Surgeon. "Some people ask to remove all traces of ink, while others choose to cover it up with another tattoo and come in for laser treatments to clean up what can't be covered."
An unparalleled breakthrough in tattoo removal technology, PicoSure's PressureWave™ gently delivers ultra-short pulses of energy to the tattoo ink in trillionths of a second without injury to the surrounding skin. This shatters the ink into tiny particles that are easily eliminated by the body. Based on physician studies1,2 PicoSure has proven efficacy on difficult ink colors, as well as previously-treated tattoos, for better clearance with fewer laser treatments and improved recovery time.
According to The America Society for Aesthetic Plastic Surgery (ASAPS), more Americans received tattoo removal treatment in 2013 than in past years. Up by 11% in 2013, tattoo removal has also seen a boost from different age groups as more American adults marked their middle age by trading out their old tattoos. PicoSure has made tattoo removal three times faster than previous laser technologies. 1,2 If one's goals are to clear existing tattoos or to celebrate a new tattoo call 212-683-7034 to learn how PicoSure can help clear one's skin's canvas.
About Park Avenue Laser Treatment by Dr Johanna Youner
Park Avenue Laser Treatment by Dr Johanna Youner in New York City provides cutting edge PicoSure and Nd-Yag laser treatments for tattoo removal, nail treatments and facial rejuvenation. All laser treatments are performed by doctors and customized to specific needs and skin type.
For more information, or to arrange an interview with Dr. Johanna Youner about PicoSure, please call 212-683-7034 or visit http://www.parkavenuelasertreatment.com
Sources:
1 Successful and Rapid Treatment of Blue and Green Tattoo Pigment With a Novel Picosecond Laser, Jeremy A. Brauer, MD; Kavitha K. Reddy,
MD; Robert Anolik, MD; Elliot T. Weiss, MD; Julie K. Karen, MD; Elizabeth K. Hale, MD; Lori A. Brightman, MD; Leonard Bernstein, MD;
Roy G. Geronemus, MD, Arch Dermatol. Published online May 21, 2012. doi:10.1001/archdermatol.2012.901
2 Treatment of Tattoos With a Picosecond Alexandrite Laser: A Prospective Trial, Nazanin Saedi, MD; Andrei Metelitsa, MD, FRCPC; Kathleen
Petrell, BS; Kenneth A. Arndt, MD; Jeffrey S. Dover, MD, FRCPC
Arch Dermatol. Published online September 17, 2012. doi:10.1001/archdermatol.2012.2894.
###