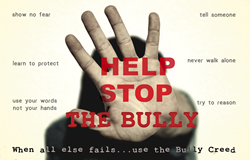 Los Angeles, CA (PRWEB) July 16, 2014
Help Stop The Bully, House Of Blues, and well-known Recording Artists unite in a grandstand musical night to raise awareness and funding against the nationwide epidemic of bullying. Christina Fulton's HSTB foundation has teamed up with A-list celebrities, prominent UFC fighters, world-renowned leaders, Sheriff Lee Baca, and politicians (State Senator Ricardo Lara) in a night to "STOP THE BULLY, STOP THE PAIN." The event will be held at House of Blues Los Angeles on Wednesday, July 23, 2014 at 9-12:30 pm. Red Carpet 7:30-8:30 pm.
Recording Artists performing on stage: Ryan Cabrera, Nikki Williams, Psanders, Arissa LeBrock, Christina Fulton.
Expected Celebrities for the Red Carpet: Kelly LeBrock, Janice Dickinson, Alan Thicke & family, UFC champion Royce Gracie, MMA Fighter John Lewis, Dan Caldwell –TAP OUT, Ralph Johnson (Earth, Wind & Fire), Dave Navarro, Sean Astin, Eric & Eliza Roberts, Patricia Arquette, Alexis Arquette, Karen Dotrice, Yossi Dina, Kim Rocco Shields, Dr. Estella Sneider, Nick Palance, Rick Darnell, Nikolae Keller, Saul Escudero, Sheriff Lee Baca, TRADIOV.
In collaboration with UFC & MMA champions (Royce Gracie, John Lewis), Christina Fulton created the self-defense program "Bully Freeze." Additionally, she partnered with renowned doctors and educators to develop "PBnJ"--- a behavioral program for schools. This House of Blues event is the official kick-off for the upcoming Help Stop The Bully Tour--- a tour that will bring the anti-bullying movement across America with live performances by A-list recording artists in concerts for parents and kids alike.
Auctioneers Hal Ornstein and Lauren Hammond will host an exciting Charity Auction with items including signed guitar by A-list rock star and exotic vacation packages.
Christina has launched the Help Stop The Bully App, which will allow for bully victims to not only report bullying incidents to local law enforcement, but also provide helpful tips and interactive games.
The Help Stop The Bully foundation has been honored with great public support. Los Angeles Mayor Eric Garcetti, the California Legislature Assembly, & the U.S. House of Representatives have all awarded certificates of recognition to Christina Fulton and Help Stop The Bully. Los Angeles Sheriff Leroy Baca also recognized Help Stop The Bully and Christina with a public Press Conference and Award Ceremony. Currently, Christina has joined California Senator Ricardo Lara in support of his anti-bullying Senate Bill (#840).
With incredible support from our Co-Title Sponsors: Kiyani & Barry's Tickets. Also, Royal Prince Limousine, Big Mama's & Papa's Pizza, TapouT, ACF, SBE (Abbey), Century Day & Night Spa, August Mark Atley, Oh Mannequin!, Dr. Garth Fisher, Dr. Michael Obeng, Dr. David Matlock, Colour Gossip Nails, Hi-Tech Computer, European Wax Center, Gavert Atelier, New York Film Academy.
Come out and join Help Stop The Bully at the House of Blues to decrease bullying across the nation.
TICKETS: $50, purchase at http://www.houseofblues.com/losangeles
For VIP/Sponsor packages, please contact: helpstopthebullyfoundation(at)gmail(dot)com
Visit "Playing It Forward" and Help Stop The Bully:
Larry Flynt on TradioV show on Aug. 15, 2014. Exclusive interview with Christina Fulton.
http://www.playingitforwardtv.com http://www.helpstopthebully.com
Twitter: @helpstopthebull @pifwcf Facebook: facebook.com/HelpStopTheBully facebook.com/pages/Playing-It-Forward-With- Christina-Fulton/471834469612900
Instagram: helpstopthebully playingitforward_
Tag line ideas and Hash tags:
#stop the bully, stop the pain
#We don't have to live in a world of bullying
#You are bigger than your bully
#You weren't born a bully
#Keep it in the ring and off the street-UFC fightere
#KEEP CALM HELP STOP THE BULLY
#STAY COOL HSTB
#STAY STRONG HSTB
#Against bullying, retweet HSTB
#If you've been bullied retweet HSTB
#HSTB & HOB against bullying
#HSTB BULLY FREEZE
#HSTB PBNJ