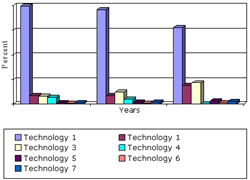 Global Market for Transparent Conductive Coatings to Reach $7 Billion in 2018
Wellesley, Mass., (PRWEB) July 16, 2014
BCC Research (http://www.bccresearch.com) reveals in its new report, Transparent Conductive Coatings: Technologies and Global Markets, the global market for transparent conductive coatings is expected to grow to $7 billion by 2018, with a five-year compound annual growth rate (CAGR) of 8%.
"Transparent conductive coatings used in the display industry and especially in LCD TVs, smartphones, tablets and notebook computers accounted for about 79.3% of the total sales in 2012," says BCC advanced materials analyst Claire Lepont. "This market is expected to lose some market share, while other applications such as touchscreens and thin film solar cells will grow rapidly. The demand in transparent conductive films for touchscreens will more than triple, and more than double for thin film solar cells."
While lighting applications are expected to comprise only 1.2% market share, their revenues are projected to grow at a hefty 31.3% CAGR. The increasing use of OLED (organic light-emitting diodes) technology in lighting will consume significant quantities of transparent conductive films. OLED lighting has been a niche market with high manufacturing costs and expensive products; however, this study anticipates significant adoption of the technology over the next few years.
The consumer electronic protection application is the only decreasing market, plunging with an expected CAGR of -53.5%.
Transparent conductive coatings materials are thin films deposited by vacuum sputtering or conventional coatings and printing techniques. Films are typically less than 300 nm thick.
Transparent Conductive Coatings: Technologies and Global Markets provides an overview of the global market for transparent conductive coatings, including those used in touchscreens, displays, lighting, thin-film solar cells, consumer electronic protection, and smart windows. It includes analyses of global market trends, with data from 2012 and 2013, and projections of CAGRs through 2018. The majority of market table values are expressed in millions of square feet.
Editors and reporters, who wish to speak with the analyst, should contact Steven Cumming at steven.cumming(at)bccresearch(dot)com.
About BCC Research
BCC Research publishes market research reports that make organizations worldwide more profitable with intelligence that drives smart business decisions. These reports cover today's major industrial and technology sectors, including emerging markets. For more than 40 years, we have helped customers identify new market opportunities with accurate and reliable data and insight, including market sizing, forecasting, industry overviews, and identification of significant trends and key competitors. We partner with analysts who are experts in specific areas of industry and technology, providing unbiased measurements and assessments of global markets. Our clients include the top companies in industries around the world as well as universities, business schools, start-ups, consulting firms and investment companies. BCC Research is a unit of Eli Research LLC. Visit our website at http://www.bccresearch.com. Contact us: (+1) 781-489-7301 (U.S. Eastern Time), or email information(at)bccresearch(dot)com.
Data and analysis extracted from this press release must be accompanied by a statement identifying BCC Research LLC, 49-2 Walnut Park, Wellesley, MA 02481, Telephone: (+1) 781-489-7301; Email: editor(at)bccresearch(dot)com as the source and publisher. Thank you.