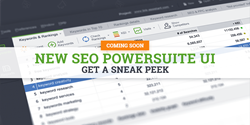 This would save my life - says Andreas Madison, an SEO PowerSuite user who already had a chance to get a preview of the software's new look-and-feel.
(PRWEB) July 16, 2014
The users asked and the company listened: Link-Assistant.Com has long planned for the coming redesign of the SEO PowerSuite toolset by gathering customer feedback, collecting niche stats and watching the latest software design trends.
The new appearance and layout will be more intuitive and easier on the eyes: some tabs will relocate to give room to more important SEO metrics and the interface's color scheme will include darker shades to exert less pressure on user's eyes.
"This would save my life," says Andreas Madison, an SEO PowerSuite user who already had a chance to get a preview of the software's new look-and-feel. "Dark and clean themes for the night is something I install for all my tools to save my eyes."
"Looks cool!"- continues Andreas.
Another big improvement will be the ability to create custom workspaces for multiple projects at once. In the current interface, one has to create a custom-tailored workspace for each new project from scratch. There will be no need to do that in the new SEO PowerSuite.
The preview of the future SEO PowerSuite design is available at http://www.link-assistant.com/news/new-user-interface.html.
*About SEO PowerSuite*
SEO PowerSuite is online marketing software that allows one to optimize any site for over 300 search engines for higher search engine rankings and greater Web traffic.
The SEO toolset is made of 4 apps, each giving the SEO manager a hand with a particular stretch of the SEO path:
1. Rank Tracker helps with keyword tracking and keyword research. It allows search engine optimizers to quickly check where their sites rank in search engines, track progress over time and discover profitable SEO keywords using 17 keyword suggestion tools.
2. WebSite Auditor is the kit's on-page SEO tool that lets one rid their site of any structural glitches that could be holding back its online success, and optimize content for campaign keywords.
3. SEO SpyGlass is SEO PowerSuite's renowned backlink checker. It detects hyperlinks (dubbed "backlinks" by SEOs) pointing to any site on the Web, thus helping one make their website more visible on Google – by getting links from places popular with one's competition or cleaning up "spammy" links using SEO SpyGlass's link clean-up module.
4. LinkAssistant is the SEO pack's link management and verification tool. It allows one to record all the steps they take while acquiring links for their site, email webmasters right form the tool, check on any link's status and keep track of link building progress over time.
Together, the four SEO PowerSuite tools allow one to take easy care of all important aspects of an SEO campaign, to track its results and to move websites quickly up the search engine popularity ladder.
*About Link-Assistant.Com*
Link-Assistant.Com is an application developer with almost 10 years of experience providing top-performing SEO software for bloggers, SEO consultants and online marketing agencies. The company's best-known toolset, SEO PowerSuite, is currently used by over 500,000 people worldwide who rely on it for technology-aided SEO process and outstanding SEO results.
Keep abreast of the SEO industry - follow Link-Assistant.Com on Facebook fb.me/LinkAssistant, Twitter @LinkAssistant or Google Plus gplus.to/LinkAssistant.