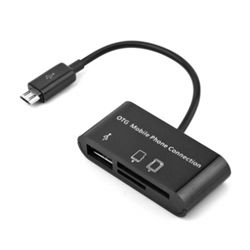 (PRWEB) July 16, 2014
Recently, Hiconn Electronics, a reliable China mobile phone accessory company from China, has added a new range of USB HUB & Card Readers (for OTG Mobile Phone) to its product category. Also, the company has launched a big sale for these high end card readers.
Now, all its USB HUB & Card Readers are offered at discounted rates, up to 30% off. "We are excited to release our new products and launch the special offer. We want to expand our market share and facilitate more consumers. The deadline of this promotion is July 26, 2014; clients who are in need of some top quality mobile phone accessories should visit our website as soon as they can," the company's chief executive officer says.
The followings are some details of the great USB HUB & Card Readers offered by Hiconn Electronics:
--1 Port USB HUB and Card Reader
--Support USB flash driver, USB card reader and mouse
--Support SDHC,MMC,RS MMC, Extreme 3 SD, TF(Micro SD)
--Support USB Hard disk Enclosure in FAT32 format
--Support all kind of mobile phone with OTG function (Samsung, HTC, Moto, LG, etc.)
--Support Android 2.2 or above
Last but not least, Hiconn Electronics is providing thousands of practical accessories for consumers worldwide. A lot of its items are very popular in the market. All of them feature excellent quality and great functions. For those who want to get cheap, high quality items, its current special offer is a great chance.
About Hiconn Electronics
Hiconn Electronics (Shenzhen Hiconn Electronics Co. Ltd.) is devoted to designing and manufacturing a wide range of connection cables and customized cable assemblies, offering many HDMI cables, VGA cables, SATA cables, USB cables, 1394 cables, DVI cables, SCSI (Small Computer System Interface) and more. For more information, please visit http://www.hiconn.net/.
Contact Person: James Yin (Sales Director)
Company Name: Shenzhen Hiconn Electronics Co., Ltd.
Address: Shenghua Building., Xixiang Road., Baoan District, Shenzhen, Guangdong Province, China
Zip Code: 518102
Tel: +86-755-8109 8345
Fax:+86-755-2779 3497