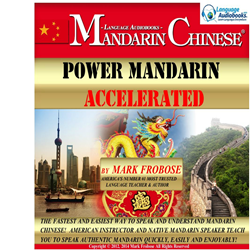 Now Everybody Can Learn to Speak Mandarin Chinese Quickly and Easily From Any Location
Champaign, IL (PRWEB) July 21, 2014
LanguageAudiobooks.com, the nation's leader in learn languages everywhere™ fast and easy digital language programs, announces the release of Power Mandarin Accelerated on Audible.com..
"We developed Power Mandarin Accelerated to simplify and intensify the language learning process, and make it fast and easy to learn Mandarin Chinese from any location or device," explains Language Audiobooks founder Mark Frobose.
Why the title Power Mandarin Accelerated?
"We decided to create a powerful and mobile Mandarin Chinese language program that fits perfectly into our smartphones that most of us take everywhere," explains Frobose.
Mark should know what works. He's the bestselling author of more foreign language programs than any individual on the planet. His popular Power Spanish Accelerated has gotten rave reviews from its users on Audible.com and his older Behind the Wheel Spanish is still a national bestseller.
Language Audiobooks Inc. specializes in downloadable digital language programs and CD programs like the bestselling Power French Accelerated which are extremely fast and easy to learn and that are immediately accessible to any smart phone or computer. The Language Audiobooks' motto is "Learn Languages Everywhere™".
The company's founder and CEO Mark Frobose is an expert language teacher who created the entire language audio line for Macmillan Audio of New York including the bestselling "Behind the Wheel French" program. For over a quarter of a century, Mark has created and produced more successful audio language programs than any other living individual in the world today. His bestselling Power Italian Accelerated is rapidly becoming the nation's favorite all-time Italian program.
Language Audiobooks' popular Power Spanish, Power French, and Power Italian, Bite-Sized Mandarin, Conversational Latin-American Spanish, Clean French Slang and other innovative language programs are available for download now at Audible.com or in CD format at Amazon.com.