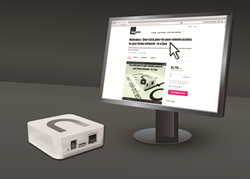 By leveraging the small ROM and RAM footprint of FreeRTOS, the Nabto-box is able to create this self-contained, peer-to-peer, one-click, connect from anywhere VPN box on a small low cost and low power microcontroller
Bristol, UK (PRWEB) July 18, 2014
- Crowd funded project hosted on Indiegogo

FreeRTOS enables self-contained VPN in a box running on a small, low-cost MCU
Small, low cost and self-contained hardware running FreeRTOS+Nabto
Securely access and control all your home network gadgets from anywhere
No configuration necessary - simply connect to your home router
The Nabto-box, a new Indiegogo project, uses FreeRTOS and the same peer-to-peer technology as Skype to enable all the gadgets on your home network to become part of a secure Internet of Things (IoT). Designed to offer a simple solution for all consumers, unlike other devices it does not use a dynamic IP service, does not require you to pay a subscription, and does not require any cumbersome firewall or router port configuration. Users simply plug the Nabto-box into their home router to access, view the status of, control and stream data from their networked devices such as thermostats, alarm-systems, surveillance cameras, lawn irrigation systems and alarm systems, even when the devices don't include a remote connection option.
By using the light-weight, reliable open-source FreeRTOS real time operating system, Nabto has created a low-cost, low-power consumer product that offers a wide range of capabilities. FreeRTOS enables the box to run software that performs several advanced networking functions, including:
Servicing an IP-stack with communication originating from both the local network and the internet, and securely passing packets between the two.
Periodically contacting the cloud hosted base station, which is responsible for initiating peer to peer connections
Ensuring all communication is encrypted
The Nabto box is an Indiegogo crowd funded project. Find out more and get involved at http://www.indiegogo.com/projects/nabtobox-one-click-peer-to-peer-remote-access-to-your-home-network-in-a-box.
About FreeRTOS:
FreeRTOS is the market leading solution for small embedded system, with in excess of 107,000 downloads (that can be measured) during 2013 alone. The high quality, open source, simple and compact FreeRTOS system is to small real time embedded projects what Linux is to larger more comprehensive projects. The Nabto-box is an excellent example of what can be done with this strictly quality controlled free technology. By leveraging the small ROM and RAM footprint of FreeRTOS, the Nabto-box is able to create this self-contained, peer-to-peer, one-click, connect from anywhere VPN box on a small low cost and low power microcontroller - massively reducing software complexity and the resultant bill of material costs when compared to larger Linux bases solutions.
Real Time Engineers Ltd (the owners, developers, maintainers, and promoters of FreeRTOS) have worked with Nabto for a number of years, and FreeRTOS+Nabto is the part of the official, every growing (and soon to grow again) FreeRTOS+ Ecosystem showcase (http://www.FreeRTOS.org/plus).