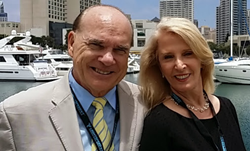 "These programs have been used all over the country and worldwide to rousing success and can be used in every type of company in every country of the world. Exceptional Customer Service is truly a universal need and requirement."
New York, NY (PRWEB) July 17, 2014
Skolnick says, "Any company of any size can vastly improve their bottom-line by improving their customer service. We can give them a strategic plan and format to do exactly that!"
The Business Doctors will be highlighting these exciting programs at the PILMMA (Personal Injury Lawyers Marketing and Management Association) tradeshow in Chicago, Illinois on July 16th.
The Business Doctors have twelve different programs that can positively impact multiple areas of customer service. The program begins with a focus on the Management team, and ensures each member is on board with the idea of improving their customer service platform. Once the Management team is committed, then they have the ability to implement an assortment of programs.
For example, the program titled Empowerment, A Way Of Life helps to give employees the ability to make their own decisions. Another informative program that can be employed is called Speed, and it works on giving employees the concept of performing tasks in a timely and efficient manner.
The basis for all program offerings is to get employees to understand the overall concept of Exceptional Service, where the customer is realized as the true "boss" in any company. The goal is to create loyal customers that keep coming back to buy new products.
The programs range from a half-day seminar, entitled Loyal for Life, to a full three year program, called Creating a Service Culture. The three year program encompasses all twelve of the programs in a very comprehensive manner. DeGutis commented, "In my twenty-plus years as a sales executive, I recognize the importance of good customer service. It truly means the difference between a very successful company and a struggling failing company!"
The Business Doctors will be presenting a very exciting part of these programs entitled Handling Irate Customers at the upcoming PIMMA tradeshow. This program deals with a problem that takes patience and sensitivity and many people feel is the hardest part of good customer service. The program features two videos and a comprehensive workbook, as well as role-playing examples of this difficult problem. Skolnick says, "We are very proud of this program that deals with a very crucial area. The ability to calm and redirect an irate customer must be handled a certain way!"
To learn more about Sheila and Michael, please visit http://www.thebusinessdoctors.org
About Sheila Skolnick:
Sheila Skolnick's inspirational speaking, seminars and consulting is based on her own business and life experiences. Sheila created a business without any money, knowledge of the industry or connections and built it into a multi-million dollar business and eventually sold it to a subsidiary of Enterprise Rent-a-Car, a six billion dollar company at that time. After selling her company, Sheila became a business consultant, teaching others how they could have the same results based on her business principles and hands on experiences. Sheila currently holds workshops for businesses and aspiring entrepreneurs. To book Sheila for speaking engagements visit http://www.thebusinessdoctors.org call 631.875.1555 or email her at Sheila (at) TheBusinessDoctors (dot) org.
About Michael DeGutis:
Michael DeGutis, a partner of The Business Doctors, joined Sheila's team in 2013. Michael brings his extensive media experience, successful sales techniques and years of working experience to The Business Doctors' team. Michael began his career as a Sports Director for WCMU-TV. He also worked in sports broadcast working mostly with radio media. After transitioning into a Communication VP position, Michael decided to build his own business. He started his business with producing commercials, ads and film for celebrity and professional athletes. Michael's career later transitioned into a successful sales career with a number of reputable companies. To read more information about Michael and to schedule a business consultant meeting visit http://www.thebusinessdoctors.org call 631.875.1555 or email him at Michael (at) Michael (dot) DeGutis (at) TheBusinessDoctors (dot) org.