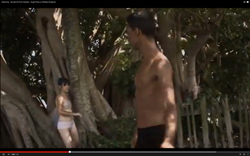 "Art is really a battle." ~ Edgar Degas 1834 - 1917
West Palm Beach, FL (PRWEB) July 18, 2014
The disputatious video "Dreaming" may be seen at the 63rd Annual All Florida Competition and Exhibition held by the Boca Museum of Art coming in August. Qualifying this video as art, the museum took a risk. "It seems for centuries, artists have been experimenting with the question of what is art," stated Cheri Mittermaier, Surreal Sculpture Artist.
This video is controversial on many levels. The most glaring is the 700 pound sculpture in the video. "When they see it, people have mixed reactions." says Cheri. "Most viewers laugh, but a few are shocked or offended. I never know, how someone is going to react. I am amazed, when they are offended, I find it very interesting." stated Mittermaier.
The other shocking thing, is there is a nipple in the video. Some social media platforms have rules against the showing of women's breasts, they are not even allowed to show pictures of themselves breast feeding. "That is something to be shocked about. Breast feeding is as old as the birth of humans. When did it become forbidden?" Cheri questions.
And lastly, Mittermaier, aimed the video, "Dreaming", at a gay audience. Durga Garcia, (still photographer) and Cheri had discussed, how to make the actors represent gays, without offending or being stereotypical. Durga knew two actors that she thought looked androgynous. So Cheri and Durga chose Violet Iasiello and Randy Alvarez. "They were marvelous", stated Mittermaier.
The making of "Dreaming" was a collaboration between Cheri, (artist/director), Durga Garcia, (still photographer) and Greg Dillard, (cinematographer).
Cheri Mittermaier has been an active artist since 2005. She studied under 24 different artists in a four year period. Cheri has exhibited her artwork nationally and internationally, and has shown in three museum group shows. She became incorporated in 2011. Mittermaier, is an Artist Portfolio Member of the Cultural Council of Palm Beach County. To learn more, please visit http://www.cherimittermaier.com.