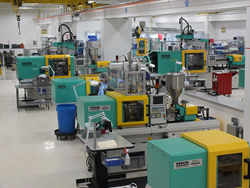 The Right Place, MEDC and Cascade Township have been integral to our success and provide the support a local business needs to flourish.
Grand Rapids, Michigan (PRWEB) July 16, 2014
Regional economic development organization The Right Place, Inc., along with its local and state partners, today announced a new West Michigan economic development project that will bring 45 new jobs and nearly $3.39 million to the region.
Medbio, Inc.
$3.39 million capital investment in Cascade Township; 45 new local jobs projected over the next 3 years; $180,000 incentive package from the MEDC.
Headquartered at 5346 36th Street SE in Cascade Township, Medbio, Inc. is a premier contract manufacturer, specializing in injection molding, assembly and packaging for the medical device and biotechnology industries.
Medbio is receiving a $180,000 performance-based grant from the Michigan Strategic Fund ("MSF") under the Michigan Business Development Program ("MBDP") to help the company expand its Grand Rapids area operation and support new business growth and demand.
The project will result in a capital investment of $3.39 million and the creation of 45 jobs. The company will expand its existing facility by 20,000 SF; 12,000 SF for manufacturing space and 8,000 SF for warehousing. The expanded campus will be 55% larger to accommodate future growth.
Cascade Charter Township is supportive of the expansion and is anticipated to provide local support in the form of a P.A. 198 property tax abatement.
"We are very excited about our upcoming expansion that will provide us room to continue our growth," said Chris Williams President and CEO, Medbio. "The entire Medbio team always works together to deliver quality service and value. Our customer base is growing in both sheer numbers and revenue, allowing us to create jobs locally. "The Right Place, MEDC and Cascade Township have been integral to our success and provide the support a local business needs to flourish."
"Medbio's expansion announcement reinforces the strength of the growing medical device industry in West Michigan," said Birgit Klohs, President and CEO, The Right Place, Inc. "With life sciences and medical device manufacturing as a part of The Right Place's three-year strategic plan, we are pleased to work with the MEDC and Cascade Township to continue Medbio's success here in the region."
Medbio plans to begin the expansion immediately. Hiring will be ongoing, and interested job seekers may apply directly to Medbio by submitting resumes to, hr(at)medbioinc(dot)com. A video on Medbio and careers with the company can be found on youtube.com: http://youtu.be/fwDgd7T0its.
With this latest economic development project, The Right Place, working with its local and state partners, has generated $87.8 million in capital investment and assisted in the creation of 1,024 jobs in West Michigan in 2014.
About The Right Place, Inc.
The Right Place, Inc. is a regional non-profit economic development organization founded in 1985 and supported through investments from the private and public sector. Its mission is to promote economic growth in the areas of quality employment, productivity and technology in West Michigan by developing jobs through leading business retention, expansion and attraction efforts. For more information visit: http://www.rightplace.org.
About Medbio, Inc.
Medbio is an ISO 13485:2003 certified contract manufacturer offering innovative manufacturing solutions for the life sciences. We specialize in precision injection molding, assembly, and design support for the medical device industry. From components to full assemblies, Medbio has the knowledge, passion, and experience to solve your most difficult manufacturing challenges.