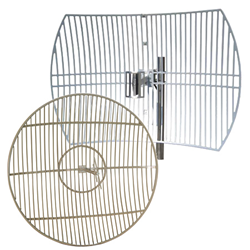 (PRWEB) July 17, 2014
Today, ZDA Communications, a leading global antenna firm, is pleased to introduce its Parabolic Grid Antenna collection. The applications include point to point systems, point to multi-point and wireless bridges in the 400MHz, 700MHz, 800MHz, 900MHz, 1.9MHz, 2.4GHz, 2.6GHz, 3.5GHz, and 5GHz band.
On ZDA Communications's website, customers can see the best-selling parabolic grid antennas from this company. In addition, all these models are offered at discounted rates now. All the clients around the world can enjoy a special discount when they place orders in July 2014.
The CEO of ZDA Communications said, "Our models are customized to meet specific needs for brands and environments. All the items come with many positive comments from our customers. Now, we hope to recommend them to our clients to increase our market share."
ZDA Communications is selling hundreds of parabolic grid antennas on its website. Its commitment to customer satisfaction and service are the top priorities. The business promises to stay focused on its antenna products with dedicated customer service.
James, an antenna distributor from London, said, "I purchased my parabolic dish antennas (450 MHz grid parabolic dish antenna series, manual welding, 450-470 MHz, 12-18dBi) from ZDA Communications last week, which is one of the top 5 best-selling models. I finish the whole shopping process very fast, although I was a little confused with so many antennas. It is so convenient now."
About ZDA Communications
ZDA Communications US LLC is a leading manufacturer and supplier of all kinds of wireless antennas, including Yagi antennas, Parabolic dish antennas, cell tower sector antennas, External wireless antennas, mobile antennas, Broadband and Ultra Wide Band Antennas. For more details of the company and its products, please visit http://www.zdacomm.com/wireless-antenna-category-by-type/grid-antenna/