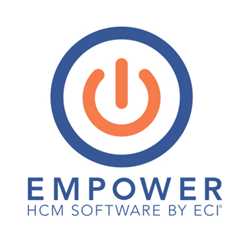 Elkhart, IN (PRWEB) July 16, 2014
In a recent Electronic Commerce, Inc. (ECI) survey, 97% of users are productive upon implementation and use of ECI® Empower Payroll, an award-winning Human Capital Management (HCM) software solution. Of those surveyed, 74% said they are "very productive" using Empower Payroll.
"Empower Payroll is a best-in-breed, intuitive software solution that maximizes the end user's time and improves efficiencies from the start of the payroll process to completion," said Jeff Lacy, President and CEO. "Delivered via the cloud, a company can significantly boost productivity and cost savings since manual and paper processes are virtually eliminated."
Empower is a fully featured and integrated HR payroll solution that allows for uploading of employee hours and earnings through costing software, and interfacing with a time and attendance system. Payroll verification reports can be run for virtually any group of employees to view gross-to-net data before posting payroll. Empower Payroll includes project-managed implementation methodology, SSAE 16 Level II audited controls, no "per payroll" transaction costs, single vendor payroll outsourcing, and other features to dramatically improve the value and performance of a payroll processing system.
"With our rapid-implementation methodology and dedicated project management team, users can be up and running with Empower quickly and experience a seamless transition," said Lacy.
ECI Empower Payroll features unlimited direct deposits, paperless payroll processing, global deduction management, gross to net in real time, automated minimum wage makeup, unlimited earnings and deduction codes, automated FLSA, overtime calculations, new hire reporting to states, unlimited Official Bank Check services, garnishment processing services, inactive employee tracking and reporting, W-2 printing and reconciliation, and electronic W-2 filing to federal & state jurisdictions. Tax updates are automatic.
About ECI
Specializing in HCM solutions, ECI® created its Empower software to provide mid-sized companies with a cloud-based, fully unified platform that covers the entire employee lifecycle. Users can seamlessly transition from one HR task to the next inside a secure, single database. Leveraging cloud based, SaaS (Software as a Service) deployment, single sign on access and a variety of user-friendly features, Empower delivers the ability to streamline communication, automate workflows and simplify the user experience across a full scope of employee administration requirements. ECI has earned several awards, but is most proud of a 97% client retention rate. Learn more at http://www.ecipay.com or call 800-320-9530.
For additional information, please contact:
Leanne Phillips
Director of Marketing
Electronic Commerce, Inc.
2810 Dexter Drive
Elkhart, IN 46514
574-970-4400
lphillips(at)ecipay(dot)com