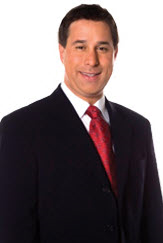 "A hoax like this isn't the only way to get help after an accident.
(PRWEB) July 16, 2014
The tale of a scarred three year old girl being booted from a KFC restaurant is likely a fake, according to new evidence that emerged in the last week. Attorney Michael Steinger of Steinger, Iscoe & Greene says that dog bite victims don't have to resort to lying to receive help.
Victoria Wilcher, who was badly wounded and scarred in a dog attack in April, was supposedly thrown out of KFC because her face "scared other diners," according to her grandmother. But the story is contradicted by video and other evidence according to Fox 8 News (retrieved 06.30.2014).
Victoria and her grandmother allegedly do not appear in surveillance video of the restaurant in question, not do any of the orders placed on the day of the incident match what grandmother Kelly Mullins says they ordered.
The story of being thrown out went viral and provoked an outpouring of support, including donations supposedly adding up to over $135,000.
"A hoax like this isn't the only way to get help after an accident," said Steinger, who frequently works with dog victims. "The law provides for financial compensation to pay for medical costs. The best way to maximize that payment is to simply have a lawyer handle the claim with the insurance company."
But Steinger says it's important not to criminalize little Victoria.
"It was the adults in her life who started this fiasco," he said. "A three year old trusts her grandmother and doesn't know any better. She deserves proper medical care, no matter what her grandmother may have done."
About Steinger, Iscoe & Greene:
Steinger, Iscoe & Greene is a proven legal team whose number one goal is to get injury victims throughout Florida and California every dollar they truly deserve for their injuries. Since 1997, the firm's lawyers have successfully handled cases including: auto accidents, bicycle accidents, birth injuries and medical malpractice. The entire legal team is committed to representing and fighting for injury victims' best interests, giving each client insight into Florida and California law and their rights.
Steinger, Iscoe & Greene is a legal team with more than 30 lawyers and 140 legal professionals. With offices throughout South Florida – Miami, Fort Lauderdale, West Palm Beach, Port St Lucie, Okeechobee, Ft Myers, Orlando and Tampa – and most recently in San Diego, California, the firm is ready to advocate for the best interests of injury victims coast-to-coast Steinger, Iscoe & Greene has recovered more than $500 million for their clients and offers the No Fee Guarantee®, which means "you don't owe us any money unless we get money for you."
Steinger, Iscoe & Greene
1645 Palm Beach Lakes Boulevard
Ninth Floor
West Palm Beach, Florida 33401