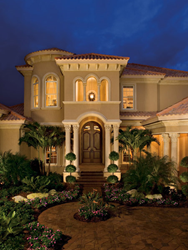 Clearwater, FL (PRWEB) July 16, 2014
Arthur Rutenberg Homes released another article about creating curb appeal for a home that truly makes an impact.
Curb appeal simply means a property gets noticed "from the street". This article expands this with the premise that curb appeal is what people talk about the next day after visiting a home.
While lots of people talk about creating curb appeal for a house owners are getting ready to sell, not many articles discuss methods for when the home is new or the current occupants intend to stay!
It's not just about "making it stand out", it's about putting an individual's personal signature on creating curb appeal and adjusting it to a lifestyle and fit for that home.
A home's curb appeal can be enhanced as it is built or after closing with some simple methods that new owners can even do as weekend projects.
Arthur Rutenberg Homes staff of professional designers in the Design Centers plan their models and customer's homes with the home, neighborhood and lot in mind. This article shares some of those insights.
Curb appeal elements include:

The Front Door
Accessories That Add Impact
Creating a Front Patio
Outdoor Lighting for an entryway and front yard
Walkways - create a path with a story
Learn all about how to create dramatic curb appeal with tips you need to know.