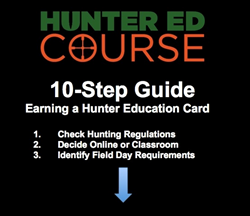 Birmingham, MI (PRWEB) July 17, 2014
To help new hunters coming into the sport, Hunter Ed Course has created a 10-step guide on how to earn their hunter education card. The guide to earning a hunter education card is available at http://www.hunteredcourse.com/blog.
The goal of the guide is to help simplify the process for someone interested in the sport, but they just don't know how to go about earning their hunter education card as is required in most states.
Even if a new hunter has someone mentoring them in the sport, the laws regarding the need for hunter education may have changed. The quick ten-step guide makes it easy for mentor and student alike to understand the process and put a plan in place for the new hunter to earn a hunter education card before hunting season starts.
Hunter Ed Course offers online hunter education that meets IHEA-USA standards and is an approved course in many states across the country.
Available online at only $13 at http://www.HunterEdCourse.com, Hunter Ed Course online hunter education is a key component in the 10-step process to providing easier access to the sport.
With everyone's busy schedules today, the availability of the student or mentor having the time to attend the traditional two-day classroom course is alleviated by taking hunter education online when and where a student has availability.
And now with the Hunter Ed Course 10-step Guide to Earning a Hunter Education Card a new hunter has an easy resource for how to get started in hunting.
About Hunter Ed Course
Hunter Ed Course is committed to providing a more affordable online hunter safety course than is currently on the market in order to reduce training as a barrier to access for those wanting to start hunting.
Offered at only $13 through the website http://www.HunterEdCourse.com, access is provided to online hunter education for youth and adults in a medium they are comfortable with and at a price that is affordable and within reach.