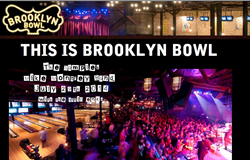 MMB have truly created a joyful and highly innovative pop gem. - Americana UK
(PRWEB) July 17, 2014
Lively and infectious melodies have been a mainstay of Mike Montrey Band, and their newest release, Song By Song By Song, attests to that fact. Mike Montrey (guitar, vocals) pours himself into each track, delivering soulful vocals while perfectly adding exceptional guitar playing. Jen Augustine (vocals) contributes a warm, rich voice and Duke (bass, vocals) completes the vocal trio that produces the lush harmonies on tracks such as "Therapeutic Bliss" and "The Sunshine." Karl Dietel (keyboard, piano, vocal) and Adam Garnys (saxophone) give Mike Montrey Band a unique, funky presence, while Rob Smith (drums) drives the rhythm section with an impressive repertoire of musical stylings. The musical prowess of these members, some of whom have toured nationally as members of The Samples, combine to create a unique experience.
Mike Montrey Band performs with The Samples and The Attic Ends
Brooklyn Bowl
61 Wythe Avenue, Brooklyn, NY 11211
All ages/$15
Tuesday July 29th - 7PM
25 years after starting his full fledged music career with The Samples, Sean Kelly continues to delight fans with music that transcends genres, age and shatters the rules of the established music industry. Throughout his career, Sean has been the driving influence of 20 albums and over 1 million records sold. The Samples are more than a band – they represent a culture of fans and music that go beyond who happens to be playing in the band at any given time.
The Attic Ends are a four piece, atmospheric indie-rock band from Bushwick, Brooklyn. Their music has been described as a spine-tingling mix of rock's primal recklessness with the intricacy of complex indie-pop. The music evokes an expansive darkness, richly-layered with appealing melodies and power pop vocals.
For more information, images, or to arrange for an interview, please contact Melissa Zeigler at Powderfinger Promotions: melissa(at)powderfingerpromo(dot)com.
Powderfinger Promotions–Independent Radio Promotion and Publicity. Since being founded in October 1994, Powderfinger has come to be regarded as a top indie radio promotion and publicity firm with ties across North America.