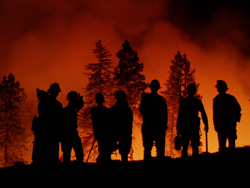 'Our firefighters stand ready to assist our agency partners when the call comes for assistance,' said Deborah Miley, Executive Director of the National Wildfire Suppression Association.
Lyons, OR (PRWEB) July 17, 2014
As hundreds of acres are going up in smoke in the Western United States, a State of Emergency has been declared in Oregon and Washington. National Wildfire Suppression Association member companies have been called up to provide fire resources to assist in the battles in the west.
As many as 4000 private firefighters and the equipment they can provide are on the lines now, and thousands more are trained and ready to respond when the call comes in. Records show that in 2012 private industry could provide up to 4500 pieces of equipment and 11,000 firefighters on an as needed basis. "Our role is to supplement our agency partners resources when fires are stretching resources thin," said Deborah Miley, NWSA Executive Director.
Historically private industry has provided up to 40% of the resources that can be used to combat wildfires in the nation. That can translate into an additional work force of up to 12,000 trained firefighters along with all the equipment including heavy equipment, crews, waterhandling, faller modules and many other specialized pieces of equipment. We provide resources under agreements/contracts to the agency on an as needed basis giving them the flexibility they need during peak fire season. The National Wildfire Suppression Association founded in 1991 currently represents over 200 private fire companies across the United States.
All firefighters go through rigorous training prior to fire season, and must comply with are standards put forth to become a wildland firefighter. Justin Dice, a Task Force Leader for Patrick Environmental said, " I am constantly upgrading and taking on other classes to better round out my skill set, keeping himself and his fellow firefighters safer in the process."
There are also challenges that face all firefighters on the line: long days on the line, sleeping on the hard ground, and days away from family. But the rewards are great—helping people, seeing their gratitude, getting the opportunity to see nature in a way most people don't, and helping save our environment are some of the greatest benefits for those people that choose this profession.
So as the battle goes on against mother nature, private resources will stand side by side with our agency counterpart to create small army to complete the mission.