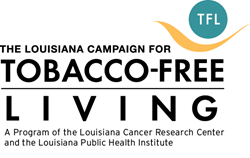 New Orleans, LA (PRWEB) July 21, 2014
Continuing with the success of last year's landmark national tobacco education campaign, the U.S. Centers for Disease Control and Prevention (CDC) is airing a second series of ads in 2014 featuring real people who are living with the effects of smoking-related diseases. The newest ads in the "Tips from Former Smokers" campaign tell the story of how real people's lives were changed forever due to their smoking. In Louisiana, 6,500 residents die every year from smoking-related diseases. The new ads began airing July 7 and will continue through September 7.
"These ads tell the stories of brave people struggling with the health consequences of smoking-related diseases --- the kinds of smoking-related diseases doctors see every day," said Tim McAfee, M.D., M.P.H, director of the CDC's Office on Smoking and Health. "The former smokers in these ads give voice to the more than 16 million Americans who are suffering from smoking-related chronic diseases each and every day."
The ads feature smoking-related health conditions that people don't commonly associate with cigarette use—including gum disease, pre-term birth, and complications associated with HIV—and continue to emphasize more common conditions, like cancer. They encourage smokers to call 1-800-QUIT NOW, a toll-free number available to all Louisiana residents 13 and older to access free quitting support across the country, or visit http://www.cdc.gov/tips to view the personal stories from the campaign and for free help quitting.
"These ads are effective in bringing to life the devastating effects of smoking, helping people quit and never start," says Tonia Moore, associate director of the Louisiana Campaign for Tobacco-Free Living (TFL), a program of the Louisiana Public Health Institute (LPHI) and the Louisiana Cancer Research Consortium (LCRC). "As a public health professional, I know all too well the terrible toll of smoking. TFL is committed to helping Louisiana residents know the reality of smoking-related disease and death – and to prevent these realities from happening to them."
The Tips campaign serves as an important counter to the more than $8.3 billion spent annually by the tobacco industry to make cigarettes more attractive and more affordable — particularly to youth and young adults.
"In Louisiana, 5.2 percent of middle school students and 12.6 percent of high school students smoke," Moore said. "More than 1,200 people in the U.S. die daily due to smoking, and for every one of those deaths, at least two new youths or young adults become regular smokers. That is why it is so important that we not only encourage current smokers to quit, but do everything we can to educate young people so they will never start smoking."
Smoking remains the leading cause of preventable death and disease in the United States. It kills about 480,000 Americans each year. For every person who dies from a smoking-related disease, about 30 more people suffer at least one serious illness from smoking. Nearly 70% of smokers say they want to quit, and Louisiana provides free information and resources to do so through the Louisiana Tobacco Quitline. Tobacco users seeking free help to quit can call 1-800-QUIT-NOW or enroll online at http://www.quitwithusla.org.
The Louisiana Cancer Research Consortium (LCRC)
The Louisiana Cancer Research Consortium of New Orleans provides a structure in which Tulane University Health Sciences Center and Louisiana State University Health Sciences Center - the state's two leading medical research institutions - will work together and coordinate cancer research development in preparation for recognition as a National Cancer Institute (NCI) - Designated Cancer Center. The consortium is funded through five cents of the tobacco excise tax, three cents to fund infrastructure and cancer research program development for the new Consortium and two cents for tobacco control and prevention programs. Conservative estimates indicate that approximately $10 million per year will be generated from this revenue source. For more information, visit http://www.lcrc.info.
The Louisiana Campaign for Tobacco-Free Living
The Louisiana Campaign for Tobacco-Free Living (TFL) and the Louisiana Department of Health and Hospitals Tobacco Control Program (LTCP) coordinate their efforts in tobacco prevention and control by providing statewide coordination of existing tobacco control initiatives, funding innovative community programs for tobacco control, offering services for people who are ready to quit and developing statewide media campaigns to help reduce the excessive burden of tobacco use on the state's resources and improve the overall health and quality of life in Louisiana. For more information visit http://www.tobaccofreeliving.org. To find out more about the dangers of secondhand smoke and show your support for a 100-percent smoke-free Louisiana, visit http://www.healthierairforall.org. To learn more about quitting tobacco, visit http://www.quitwithusla.org.
About the Louisiana Public Health Institute (LPHI)
Founded in 1997, The Louisiana Public Health Institute's mission is to promote and improve the health and quality of life in Louisiana through public-private partnering at the community, parish and state levels. By fostering collaborative endeavors in the areas of health information, public policy, applied research, and community capacity enhancement, LPHI works to develop community-oriented solutions that improve the health of the Louisiana population. For more information, visit http://www.lphi.org.
###