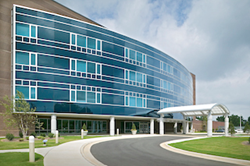 "By joining KSQ, we can offer a stronger depth of expertise in K12 and student life architecture as well as the benefit of a national portfolio." – Doug Burns, Principal, KSQ/Peterson
Charlotte, NC (PRWEB) July 23, 2014
National planning, architecture and interior design firm KSQ Architects announced today that Peterson Associates has joined the firm. Founded in 1974 by Jay Peterson in Charlotte, NC, Peterson Associates is a multi-disciplinary firm providing architecture, engineering and interior design services for healthcare, K12 and higher education clients in the Southeast. Specializing in higher education, K12 schools and multifamily design, KSQ Architects was founded in 1988 and maintains offices in New York, Oklahoma, Texas and Colorado.
The Charlotte office will be known as KSQ/Peterson. The combined strengths of both firms will not only create a Southeast office for KSQ, but also provide the benefit of Peterson's healthcare and engineering expertise, expanding that market as well as opening up the ability to pursue health sciences-related buildings in the higher education sector. KSQ's depth of expertise in collegiate student housing, dining, unions, K-12 Schools, and multifamily housing will now have a stronger presence in this growing region.
"By joining KSQ, we can offer a stronger depth of expertise in K12 and student life architecture as well as the benefit of a national portfolio," said Doug Burns, a principal with Peterson Associates. "Our firms are a great match, as we share common values in our commitment to both design excellence and client satisfaction." Three members of the Peterson leadership team will become principals of KSQ/Peterson: Doug Burns, Wayne Gregory and Michael Rogers.
"We are excited to bring on board the expertise Peterson offers in healthcare design and engineering services," said Armand Quadrini, AIA, a principal and director with KSQ. "Adding engineering streamlines decision making processes, allowing for better coordination, early evaluation of the energy efficiency of the design and how the systems support the architecture. Joining forces with a 40-year-old known entity in North Carolina sets us on an excellent trajectory for growth in the Southeast," he said.
With the addition of Peterson Associates, KSQ's staff will grow to more than 100 professional, technical and support staff. For more information, visit http://www.ksqarchitects.com or contact Monica Roberts, communications manager, at mroberts(at)ksqarchitects(dot)com.