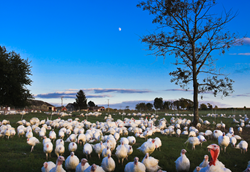 Part of the Farm Bureau's mission is to educate people about farming in Connecticut. By visiting three diversified farming operations, guess will enjoy their visits, and learn a lot about how — and why — agriculture works in our state.
Windsor, CT (PRWEB) July 17, 2014
Connecticut Farm Bureau Association (CFBA) is hosting a day-long bus tour to three agricultural operations in Eastern Connecticut on Saturday, August 9.
For just $45, adults may jump aboard a guided tour to Devon Point Farm in Woodstock, Ekonk Hill Turkey Farm in Sterling and Westford Hill Distillers in Ashford. Connecticut-grown lunch is included as part of the day, as well as a Pig Roast dinner including live music and hayrides.
The tour is funded in part by a grant from the Connecticut Humanities Council under its project, Connecticut at Work. The grants support a wide range of community-oriented programs that examine the past, present and future of work in the lives of Connecticut residents. To reserve a space on the tour, visit http://www.cfba.org under EVENTS. Seating is limited. The coach bus departs Pleasant View Café, 452 South Rd. (Rte. 83) in Somers at 9:30 am and will return there about 5 pm for a Pig Roast dinner.
"With Farm Bureau's mission to educate people about farming in Connecticut, we thought a multiple-farm tour might be a great way to help folks visit the farms and meet these farming families," says Debbi Tanner, Chair of the CFBA Women's Leadership Committee who is coordinating the event. "Their diversified farming operations represent many different Connecticut Grown products. I think our guests will enjoy their visits, and learn a lot about how—and why—Connecticut agriculture works. We're very appreciative of the Connecticut Humanities Council for involving farming in their year-long project."
Devon Point Farm raises pasture-raised beef and chickens, plus vegetables and operates a CSA. Ekonk Hill Turkey Farm grows everything for the Thanksgiving table, specializing in pasture-raised turkeys, and operates a farm store. Westford Hill Distillers, a craft distillery, ferments and distills local fruits into small-batch spirits. The winding roads between the three destinations will acquaint guests with northeast Connecticut's rural and rich farming region.
The Pig Roast at Pleasant View Café is hosted by the CFBA Young Farmer Committee who holds this event to raise funds to send young farming leaders, ages 18 to 35, to a national leadership conference. The dinner is included in the price of the day-long tour.
It is also open to the public and features Connecticut-raised pork with all the fixings. In addition to live music and dancing, the evening includes hayrides and games for children. For those wishing to just attend the dinner tickets are $20 per person if reserved in advance, $25 at the door. Children 12 and under are free.
A second tour is scheduled for October 4 featuring three farming operations in Fairfield County. Watch for details.
About Connecticut at Work
Connecticut at Work travels across the state through December 2014. The program features the Smithsonian Institution's The Way We Worked exhibition, with stops in seven communities: New Haven, Torrington, Hartford, Waterbury, Coventry, Stamford and Groton. Surrounding communities are adding local focus with community history exhibits, book and film discussions, author talks, performances and more. Connecticut at Work is an initiative of Connecticut Humanities, a non-profit affiliate of the National Endowment for the Humanities. In the Coventry area, Connecticut at Work is a partnership with Connecticut Landmarks. The Connecticut tour of The Way We Worked is made possible by Connecticut Humanities and Historic New England. For a calendar of events and more information, visit http://www.cthumanities.org/ctatwork.
About the Connecticut Farm Bureau Association
Since 1919, The Connecticut Farm Bureau Association has provided a strong, clear voice in state agricultural issues. As a non-governmental, membership organization serving farm families, the Connecticut Farm Bureau's mission is to advocate for agriculture and find solutions for concerns facing production agriculture in our counties, state and nation. Volunteer leaders, including the Women's Leadership and Young Farmer Committees, and staff work closely with state and federal regulatory agencies and elected officials on issues ranging from economic viability, property rights, taxation, land use planning to labor laws and farmland preservation. Connecticut Farm Bureau believes that representing the interest of farmers also benefits all Connecticut residents who enjoy safe, locally grown, farm-fresh products. For more information visit http://www.cfba.org.