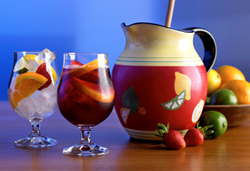 We believe that the perfect Sangria is mastered with patience, much like fueling a relationship. Allowing for the fruit to marinate makes all the difference in the end product. - Terry Ryan, President at Carmel Café & Wine Bar
Tampa, Orlando, FL (PRWEB) July 16, 2014
The summer love affair – nothing beats it: Skimpy swimsuits, weekend trips to the beach and the sweet seduction of cooling off with the cocktail of the season, the Sangria. It's no coincidence that culinary experts have dubbed summer "the flirting season," and summer of 2014 is now being recognized by millennials as "the summer of the Sangria."
Sangria, which literally translates to the word 'blood,' is undoubtedly representing passion this season. Known as 'the drink of Spain,' the Sangria was first created over 2,000 years ago. It was eventually regarded as an aphrodisiac and as having various medicinal properties.
Sangria's mix of red wine, spirits, simple syrup and a ton of chopped, seasonal fruit has long been adored by individuals of all types during the warmth of summer, but this summer it has become the symbol of the summer romance.
In reaction to this hot summer trend, celebrities of all types are dishing on their love of the Sangria, as well as offering tips and recipes on how they believe the perfect Sangria is made. From Bethany Frankel to Mario Lopez, everyone seems to have an opinion.
"We believe that the perfect Sangria is mastered with patience, much like fueling a relationship," explains Terry Ryan, President at Carmel Café & Wine Bar. "Allowing for the fruit to marinate makes all the difference in the end product."
So, whether you're in love, seeking love or simply are loving being single, this is the "Summer of the Sangria," and that's refreshing.
About Carmel Café & Wine Bar
Carmel Cafe & Wine Bar creates a new dining experience that is defined by innovative cuisine, a selection of serving sizes for both food and beverages and a revolutionary menu ordering system called Menupad that offers guests a simple and easy way to customize their dining experience. The Modern Mediterranean cuisine incorporates – and updates - the traditional flavors and foods of Mediterranean rim countries while celebrating their healthy benefits. Guests may choose from small or large plate options as well as full entrees and can easily pair foods with a worldwide selection of wines available in three-, six- or nine-ounce pours. The MenuPad technology enables guests to order food and beverages according to their preferences as well as control preparation, pacing and presentation throughout the dining experience from drinks to paying their bill.
Share a dining experience that you orchestrate right from your table. It's all at your fingertips with MenuPad, an interactive menu that allows you to customize and pace your individual experience. Need assistance? Expert serves guide guests through inspired menu selections and an adventurous wine list. We call this "Carmel Casual" service... just relax and enjoy.
For more information, visit http://www.carmelcafe.com, or Facebook.com/carmelcafe.